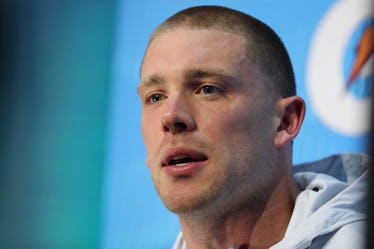 Zach Ertz's Net Worth Will Make You Even More Jealous Of Football Players
Elsa/Getty Images Sport/Getty Images
It's happening, sports fans. The Philadelphia Eagles are heading to the Super Bowl for the first time since 2005. They'll be facing off against the New England Patriots, and of course Philly loyalists will be on the edge of their seats to see if their beloved team can beat the five-time champs. One player they'll definitely have their eyes on: tight end Zach Ertz. Will he go home with a shiny new ring on Sunday? While the 27-year-old is hoping to help lead his team to victory, Zach Ertz's net worth proves he's already winning at the bank.
Yes — being a pro football player can definitely bring in the big bucks. Ertz, who played at Stanford and was the 35th overall pick in the 2013 NFL draft, signed a rookie contract with the Eagles that same year. According to SI, Zach signed a five-year contract extension with his team in 2016, becoming the fourth-highest paid tight end in the league, reportedly receiving a guaranteed 20 million dollars. Ertz took to his blog following the announcement to express his gratitude and commitment to the city he plays for, writing,
I love Philly. My family loves it. I love how passionate Eagles fans are about their football, how they live and breathe it. I put a lot of pressure on myself to be the best, and our fans want us to be successful as much as we want to be successful.
Cut to 2018 and he's achieved one of the ultimate goals for any football star: playing in the Super Bowl. And Ertz's hard work has certainly paid off. Fin App reports that the NFL star is worth an estimated $78 million.
And Zach isn't even the only superstar athlete at home. His wife just happens to be 2017 U.S. Soccer Female Player of the Year, Julie Ertz. The sports power couple met in college and were married in March of last year. But there's no crazy competition there ("maybe in board games," Julie told USA Today) — just adoration, respect, and thoughtful motivation to be the best they each can be.
"I feel like I am lagging behind," Ertz revealed to USA Today Sports, regarding his wife's athletic accomplishments. "She (won the World Cup) a couple of years ago, and we just love doing what we do. Obviously, we are in a short season of our life just playing at this level — eventually we will settle down and have to stop playing the sports — but I am so proud of her."
Aww. If those sweet words weren't enough to make you swoon, just watch as Julie, rocking her Eagles gear, adorably interviewed her hubby at Jan. 29th's Super Bowl Opening Night.
"I always answer the same way and Julie is the best athlete in the family," he said before she took the mic. "I'm never going to argue that. She's a phenomenal athlete ... I'm glad she's here. She wasn't able to be at the championship game, but I'm glad she's here." He also praised her "off the chain" tacos.
Julie previously got a chance to show her excitement live on national TV when she found out Ertz was on his way to Super Bowl LII while playing against Denmark for a national team match in San Diego. Naturally, she broke down in tears. Oh — she won her game in a 5-1 victory, by the way. No biggie.
Julie will be taking time off the soccer field to cheer her husband on in Minneapolis when the Eagles take on the Pats at the Super Bowl on Sunday, Feb. 4. Ertz may have a dream sports career and a bank account to match, but it also appears his home life is rich with love and mutual support. A World Cup medal holder and Super Bowl champ in the same family? It could happen...