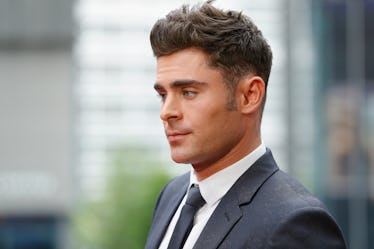 Zac Efron's Tribute To His Brother After He Raced The Boston Marathon Is So, So Sweet
Andreas Rentz/Getty Images Entertainment/Getty Images
Zac Efron is kind of having a "moment" right now. He's been starring in fun, unexpected films like Baywatch and The Greatest Showman, maybe low-key dating someone new, and showering his brother with love for all of us to see. The truth is, I have been and always will be here for a little Efron time. (Go Wildcats.) Zac Efron's post about his brother running the Boston marathon is my new favorite Efron-ism to swoon over, and I think you'll agree.
On Monday, April 16, Boston gathered 'round for it's annual marathon five years after the horrific Boston Bombing that occurred in 2015. Included in the thousands of runners this year was Zac Efron's little brother, Dylan. The 26-year-old crossed the finish line and ran into the arms of his big brother, who supported him throughout the cold, rainy race. Zac posted a video on his Instagram feed of Dylan running in the dreary weather and shared a series of videos on his Instagram stories. Zac can be heard shouting and celebrating in the background.
He captioned the video in his feed:
"What's the point of all the finish lines we cross in life if there's no one there to celebrate with?" This used to get me down when I felt alone- There's many reasons BTW❤️😎🙏 - Ima be at every 🏁 with you from here until forever, Brother. Congrats @dylanefron#marathon#bostonstrong#bostonmarathon#letsgo
Efron can also be heard shouting, "Dylan! What's up buddy? Boston Marathon! Give your brother a hug!"
Ugh, I die. Watch the Efrons embrace.
Zac also posted a sweet video of his brother with his fist in the air, captioning it: "That's my BRO!"
Despite the less-than-ideal conditions, Dylan seriously killed it. According to Entertainment Tonight, Dylan ran the 26.2-mile run with a net time of 2:57:50 and a gun time of 3:00:55. If you're doing the math, that means Dylan averages a less than a seven-minute mile. What the actual F-word, right?
Dylan shared his own picture from the iconic run at the 18-mile point, just before Heartbreak Hill. Runners traditionally describe this part of the race as most challenging due to the steady incline at the end of the course. In Dylan's photo, he's seen getting some sort of boost from a friend named Jacqueline. He captioned the photo:
First Boston marathon ✔️ Cold, windy, rainy... but what a memorable day. @zacefron and @coourtking waiting for me at the finish was all the motivation I needed. This pic was taken at mi 18 right before heartbreak hill, thanks Jacqueline for the fuel and pick-me-up!
To be honest, Dylan is looking extra Zac-like in this photo, if I do say so myself.
Zac's spoken about the support he's received from his family in the past, and how they've helped him find balance in his wild celebrity life. In 2016, he spoke with Elle magazine about how his father supported him specifically in athletics. He told Elle,
My dad always taught me to be driven. I was always the shortest kid at school. Always the worst kid on the team. I'd come home after practice and my dad would build a basketball hoop. Then we'd go out and shoot 100 free throws. Pretty soon, every time I got fouled I would make my free throws.
It's probably this same sort of determination that Efron shares with his clearly equally-athletic brother.
Congratulations, Dylan! THIS IS REALLY ABOUT YOU (and also a little bit about how much I love your brother) but mostly YOU!
Check out the entire Gen Why series and other videos on Facebook and the Bustle app across Apple TV, Roku, and Amazon Fire TV.