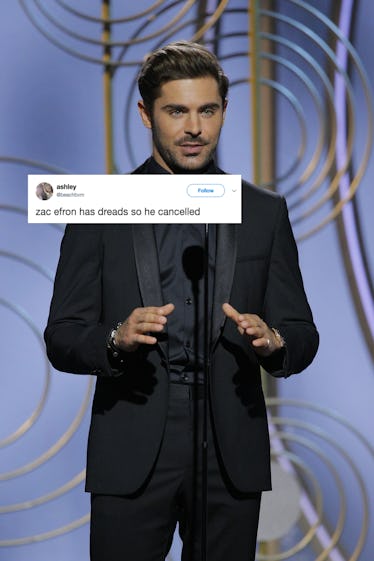 Zac Efron Has Dreadlocks Now & Fans Are Seriously Calling Him Out
Handout/Getty Images Entertainment/Getty Images
Most of us love to switch up our hairstyle in the summertime. There always plenty of new cuts, colors, and styles to choose from. And with inspiration all over Instagram and Pinterest, the possibilities are endless. But when you're a celebrity, changing up your 'do can result in a major media frenzy, and the latest style to come under fire is Zac Efron's dreadlocks. Elite Daily reached out to Efron's team for comment on the controversy surrounding his new hairstyle, but did not hear back by the time of publication.
On Thursday, July 5, the 30-year-old posted a photo on Instagram with the new look, captioning the photo, "Just for fun." Sadly, many users on social media didn't agree, and now the comment section on Efron's photo (as well as Twitter) has turned into a war zone. Many have called the actor out for cultural appropriation and having white privilege. "People of color have been discriminated against for their hairstyles for generations, getting called ghetto and being 'not professional' or not in dress code," one user commented. "But now when people of other races do the exact same thing it's deemed cool. That's why people are angry."
Others, unfortunately, don't seem to understand the outcry. "This is what's wrong with society today everyone taking offence [sic] over the smallest thing," one Instagram user said. "There's nothing to take offence here. It's just a man trying a new hairstyle everyone is entitled to their appearance nobody has patented a hairstyle you can't be sued for having your hair look a certain way. He isn't mocking the look or disrespecting it anyway. It's hair for crying out loud."
In addition to the flood of Instagram comments, Efron and his new dreads sparked heated controversy on Twitter as well.
The issue that many have with Efron wearing the style is not about the hair itself, but rather, the power dynamics that cause a divide when a white person decides to wear dreadlocks in comparison to when a black person does the same. The traditionally natural, black hairstyle is still legally banned in workplaces across the United States, according to Racked, meaning that many black individuals who choose to wear the style often have to pick between their careers and their hair. Efron, for the most part, can freely rock the look in peace.
Similarly, designer Marc Jacobs also got into some hot water for a 2016 show, when he had white models walk down the runway with locks. Again, the frustration most people had wasn't from the hairstyle itself, but from the fact that the fashion industry as a whole is only now starting to embrace racial diversity and natural hair.
Efron himself hasn't addressed the controversy just yet. But, like many other celebrities who have been accused of cultural appropriation over the years, he may have some explaining to do.
Efron, though, is no stranger to saying his piece when it comes to matters that involve race. While the topic of cultural appropriation is a whole different can of worms, for his recent flick, The Greatest Showman, Efron discussed how his character Phillip Carlyle falls in love with Anne Wheeler, played by biracial actress Zendaya. The romantic story line is aimed to prove that love knows no color.
"That was one of the most important things to get across with this role and one of the most profoundly important things that Zendaya and I wanted to both get across and felt capable of in this part," Efron explained to CNN. "What else can you do through a musical other than spread love and communicate a message that you really care about?"
He also added that with violent protests, like the white nationalist rallies in Virginia, occurring back in August 2017, it was important to get that story onto the big screen.
"We are still dealing with these [race] issues today," he said. "There's no question that... we are dealing with certain aspects that are so antiquated and I love singing and celebrating that we can overcome these issues... I think that's what Phillip and Anne are all about."
While interracial love stories in film and wearing dreadlocks "just for fun" are two very different things, let's hope that Efron will use this controversy as a teachable moment and realizes why so many people are upset.