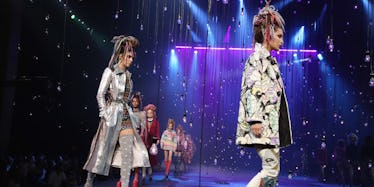 Marc Jacobs Gives Terrible Reply To Critics Of Kendall's And Gigi's Dreadlocks
REX/Shutterstock
Oh God, please no, Marc Jacobs. Just apologize for what you did with Kendall Jenner and Gigi Hadid's hair and then move on.
During his 2017 Spring/Summer New York Fashion Week show, the industry icon may have committed a tiny faux pas with his style choices while outfitting a few models with fake hair extensions and dreadlocks for their runway walk.
Many are claiming this move could be classified as cultural appropriation, with Jacobs not crediting African American culture for inspiring this look.
The internet was not happy with the show.
Some of the hate fell to Kendall Jenner and Gigi Hadid, who were caught rocking these colorful dreads during the show.
Marc Jacobs decided to unofficially respond to some of his social media critics and, I'm going to be honest, it's not pretty.
This is a great example of how to not handle negative media attention.
In the comments section on Instagram, he reportedly wrote,
... All who cry 'cultural appropriation' or whatever nonsense about any race or skin color wearing their hair in any particular style or manner -- funny how you don't criticize women of color for straightening their hair.
Maybe don't handle massive terrible PR stunts in the comment section of an Instagram post? Also, maybe don't be the biggest dick of all time when you're being called out for appropriation?
It should be noted this is nowhere close to anything official. Marc Jacobs has yet to release any formal letter about the incident.
He's still a dick, though.
Citations: Marc Jacobs Responds To Faux Locs Backlash And Calls Out Black Women For Straightening Their Hair (Essence)