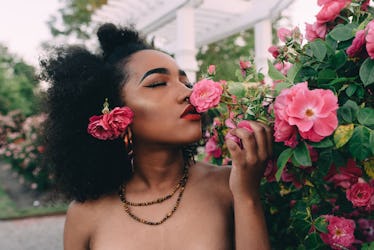 Your May Horoscope Is Here & Your Life Is About To Change In Time For Spring
It's officially Taurus season, baby. The sun moved into Taurus on April 20, 2018, to stay until May 21, 2018. Your monthly horoscope for May 2018 is marked by this sign's characteristics, including love for familiarity and stability. When the sun is in Taurus, we enjoy the finer things in life: rich foods, smells, sounds, and sights. That's not all though; the sign of the bull is known for being stubborn, for sticking to what they know, and for their distaste of the unfamiliar. Depending on where the sun in Taurus falls in your chart is where you'll feel this influence most.
That said, after last month's challenging horoscope, there's an incredible amount of relief in knowing there's some stability around the corner. And the best part is, we don't have to deal with a nasty Mercury retrograde to shake everything up. This month is about building on your progress, enjoying the fruits of your labor, and steadily working to achieve more.
On May 20, 2018, Mercury moves into Gemini, and after a long month of holding our tongue, we might feel like we have a lot to share. Wait until then to explore new horizons, to socialize, and to try new things after a month of sticking to what you know.
Aries
The sun moving into Taurus after your birthday month is no coincidence, as it activates your second house of money and earned income. You may have to juggle your budget this month as you play catch up from all that extra spending you did in April.
Taurus
The sun in your first house allows you to shine bright like RiRi, and everyone will be noticing you this month. Not to mention your planetary ruler Venus is moving into Cancer, and you'll feel the desire to partner up with someone. If you're single and looking, this is your month to make a move.
Gemini
The sun is in your 12th house of secrets and dreams, so this month is a good one to sit in solitude and see what your subconscious whispers at you. Keep an ear out for the stuff you'd rather not hear and confront it, because it'll likely surface at the full moon on May 29, 2018, if you don't.
Cancer
Since 2011, you've been going through a lot of sudden changes or revelations when it comes to your career. But now that the planet Uranus is moving into Taurus, you'll find those changes occurring in your social consciousness. Now begins an era of surrounding yourself with people who truly reflect and support your values.
Leo
The sun in Taurus activates your 10th house of career goals and ambitions this month, so make sure you take advantage of this transit by brushing up that resume and getting yourself into network as much as possible. The fruits of your labor are finally starting to pay off with public prestige.
Virgo
The sun activates your ninth house of higher learning this month, while Mars retrogrades in your fifth and sixth houses. Now is a great time to enroll in a class that expands your knowledge creatively, or to begin a new health regimen based off some new research.
Libra
Taurus energy is about to invade your eighth house of sex, death, and transformation. Although Libras tend to filter their understanding of themselves through their relationships with others, now is a time to focus inward, dig up all the dirt on yourself that you can find, and face it head on. If you really need a partner for this, find a professional one. I'm talking a therapist, life coach, etc. It will be integral to your growth.
Scorpio
The sun isn't the only planet moving into Taurus. On May 15, Uranus, the planet of innovation, rebellion, and sudden change moves into Taurus as well, and into your seventh house of partnership to stay for a while. Over the next few years, you'll have a lot of changes happening in your partnerships; expect to either dissolve them or to solidify them based on whether or not they support your tightly held principles.
Sagittarius
You're not going to love hearing this Sagittarius, because of how much you love being on the move, expanding your horizons through travel and exploration, but this month is all about your day-to-day responsibilities. The Taurus sun activates your sixth house, meaning this month might feel like a long string of errands. But the more solid you are at home, the greater your foundation is to launch yourself off to new adventures. Be patient.
Capricorn
Put down the calendar and calculator, Capricorn. With Taurus lighting up your fifth house of pleasure and theatricality, this is a month for play, not work. That doesn't mean you have to take the month off, but what it does mean is that even your work life will feel a bit more like a chance to perform. The spotlight will be on you, and you'll enjoy the confidence boost.
Aquarius
Your ruling planet Uranus, the planet of creative rebellion and innovation, is moving into Taurus in your fourth house of home and family. Now is your chance to redefine your perception of domesticity. As you think back on your childhood, your relationship to your mother, and your family of origin, rejoice in the fact that as an adult, over the next month and into the next few years, you'll be in charge of defining what your home base means to you.
Pisces
The sun in Taurus and Uranus in Taurus combine on May 15 to activate your third house of communication, prompting you to find limitless avenues to find your voice. What is it you want to say, and how do you want to say it? You might also find new ways to connect to your friends and peers, especially as Mercury moves into Gemini at the end of the month.