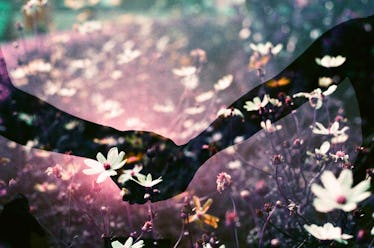 Your September Love Horoscope Shows The Stars Making Way For Good Vibes Only
Wake me up when September is here, stargazers. Abundance awaits, and after an intense retrograde cycle and eclipse season, it's safe to say September is everything we've been waiting for. This is the beginning of a new chapter for us, and speaking of new, your September 2018 love horoscope is here, and I'm so excited to reveal what's in store. However, before we dive into the future and get excited for all that's headed our way, let's talk a little bit about what's going on with the cosmos thus far: For starters, we just kicked of Virgo season, and Virgo's planetary ruler Mercury is finally direct, which makes everything so much better — and that's not even the best part!
Mars, planet of assertion and energy, also stationed direct today, and I honestly can't begin to tell you how happy I am. Mars retrograde was a time to reflect and re-evaluate our assertiveness, sexuality, and inner warrior. The planet of war spent the majority of this retro cycle in rebellious Aquarius, which in turn, asked us to channel our unique individuality. Are you ready to pick up where you left off? This is just the cosmic reset we needed, especially after the full moon in Pisces that took place this past weekend. Speaking of cosmic, here's a look at your love horoscope for September 2018:
Aries: You're Craving Real Intimacy
Your ruling planet Mars just stationed direct, and well, it's safe to say, you're feeling like yourself again. Plus, with charming Venus traveling through your seventh house of committed partnerships since Aug. 6, you've definitely been craving some one-on-one time with your significant other. Single rams could've started a serious relationship during this time, too. Although, that's not all; on Sept. 9, the planet of love enters smoldering Scorpio, bringing abundance and charm to your erotic eighth house of sex. Things are about to get smoking hot around here, just how you like it, Aries.
Taurus: You're Ready For A Serious Relationship
Electric Uranus is retrograde in your sign, so rest assured, it's been a wild ride. However, not to worry, Taurus. The cosmos have something special brewing for you, especially your ruling planet Venus. That's right, the planet of love enters your committed seventh house of relationships on Sept. 9, bringing charm and abundance to your current relationships. The past month was all about working on yourself, and your health habits, and now, it's time to them the goods. Are you ready?
Gemini: You're Having A Relationship With Yourself
You've been flirty and thriving with Venus traveling through your sassy fifth house of creativity and romance since the beginning of August. However, the planet of love enters Scorpio and your sixth house of routine on Sept. 9. Had a little too much fun these past couple of weeks? Not to worry; the cosmic coquette is here to help you get back on the grind. So, whether you're looking to start a healthy routine, or simply taking time to organize your day-to-day, now is the perfect time to do so.
Cancer: You're Coming Out Of Your Shell
The planet of love has been traveling through your domestic fourth house since the beginning of August; however, on Sept. 9, Venus enters smoldering Scorpio, and your sexy fifth house of passion. Are you ready to make your big debut, Cancer? The goddess of love morphs into an expressive starlet when she enters this area of your chart. It's your turn to show the world what you're really made of. Own it; your powers of seduction will be through the roof during this time.
Leo: You're Spending Quality Time With Your Loved Ones
On Sept. 9, Venus enters your cozy fourth house of home, family, and soul foundation. During this transit, you will be extra fond of your alone time, and of course, spending time with your loved ones. This is also a great time to redecorate your living space, and at-home aesthetic. Plus, if you've decided to start working from home, Venus can also help you earn some extra cash on the side. So, make sure you take full advantage of this prosperous energy.
Virgo: You're Extra Social And Charming
There's so much on your mind this month, Virgo! With Venus traveling through your second house of income, values, and self-worth since Aug. 6, chances are, you made a little extra cash, and felt good about yourself in the process. However, on Sept. 9, the planet of love enters your chatty third house of siblings, social media, and mental stimulation. This is a great time to network, socialize, and exchange ideas. You are overflowing with charm during this time, Virgo. Don't let it go to waste.
Libra: You're Feeling Yourself
No one knows how to work Venus' energy quite like you, Libra babe. After a couple of weeks in your sign, the cosmic coquette enters sultry Scorpio and your second house of income, and self worth. Hey, big spender! The planet of love is simply reminding you of your worth and possessions during this time. In fact, this is also a good time to organize your finances, and spending habits. You know your worth, and it's time to kick back, and indulge in the pleasures of life.
Scorpio: You're Magnetic AF
With charming Venus traveling through your first house of self, personality, and appearances, you will be as irresistible as ever during this time. This is your time to shine, and trust me with Venus on your side, there's no saying no to you. Imagine, the planet of love is sprinkling her charms right over your sign. In case you're wondering, it doesn't get sexier than this.
Sagittarius: You're Craving A Secret Love Affair
The planet of love enters your secretive and mystical twelfth on Sept. 9, and your hopeless romantic side is coming out to play. You're usually upfront about your desires, Sag, but with Venus here, you'll be in the mood for something a little more secretive, not to mention out of this world. When was the last time you got lost in a day dream? This energy is spiritual and enchanting, so let your heart do the talking.
Capricorn: You're Meeting New People
You love getting down to business, Capricorn, but with Venus traveling through your social 11th house of groups, friendships and networks, you're ready to get out there and meet new people. Who knows, you might even meet someone at a networking event, or group activity. Trust me, you won't want to miss an event during this time.
Aquarius: You're Falling In Love With Your Career
Woohoo! The planet of love enters your ambitious tenth house of career and destiny in the world on Sept. 9. This is great energy for anything related to your profession, as well as relationships with someone in authority. Are you ready to get the attention you deserve in the work place, Aquarius? Make sure to take advantage of Venus' charms during this time.
Pisces: You're Expanding Your Horizons
With the planet of love traveling through your expansive ninth house of travel, and philosophy, anything is possible, Pisces. You're feeling exotic, and drawn to the unknown. Are you planning a vacation soon? This energy is ideal for traveling, and all things foreign. Different languages and backgrounds are also appealing to you during this transit. Who knows? Maybe it's time you take that leap of faith.