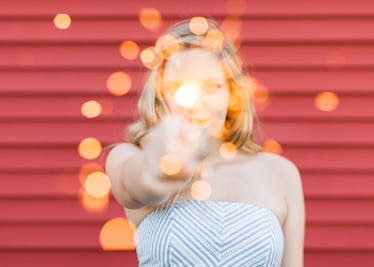 Your Fourth Of July Horoscope Is Here & Each Sign Will Feel Like A Firework
Ah, the Fourth of July. Sure, it's the same every year but there's still something magical about the smell of barbecue, tanning lotion, and fireworks on a scorching summer day. Speaking of magic, your Fourth of July 2018 horoscope is hot and heavy, to say the least. It's going to be fireworks, literally. Let me put it this way, in all my years studying astrology and looking up at the stars, I've never seen so much happening at once. The collective is undergoing intense transformation, and a lot of us don't even recognize ourselves anymore. Our layers are being pulled back, our relationships are being tested, and our foundation is in the midst of a giant restructure.
How are we dealing with this? No clue, but I commend each and everyone of you. Cheers to our ascension! As I previously mentioned, there's something really special about the Fourth of July. Personally, it makes me feel really nostalgic, which makes sense, considering it's Cancer season. However, this year, the sun won't be the only planet speaking through an emotional water sign.
On July 4, the moon will transit through the dreamy sign of Pisces, enhancing our compassion and sensitivity while bringing us closer to our swirling imagination. That's not all; the moon in Pisces will also make a lucky sextile with Pluto in Capricorn. Pisces represents our dreams and imagination, while Capricorn symbolizes our reality and raw ambitions. Astrology is infinite, but when looking at these two energies, I immediately think of one thing: Our dreams are manifesting.
Additionally, the sun in nurturing Cancer will make a harmonious trine with Jupiter in powerful Scorpio. This transit is gorgeous and larger-than-life. Imagine, the sun represents our strength, ego, and vitality, while Jupiter brings luck, abundance, and expansion. Cancer's empathy, combined with Scorpio's depth, could bring deep healing. This is a cosmic catharsis, in the best way possible. Mercury, planet of communication, will also be coupled with the north node, a representation of our karmic path, in the sign of Leo. This is both a positive and empowering aspect, as it will assist us in communicating our truth and destiny. With aggressive Mars conjunct the south node — our karmic past — we are also in the process of releasing what no longer serves us, and in this particular case, it could be in our own words.
Here's what this Fourth of July has in store for you, according to your sign. Make sure you read both your sun and rising sign, aka ascendant.
Aries: You're The Center Of Attention
You've got the world at your feet, and everyone is watching. Forget about the pressure. Listen to you heart and let your authenticity speak for itself.
Taurus: You Found A New Clique
I'm sorry, the old Taurus can't come to the phone right now. You're taking risks and expanding your horizons. You've evolved into the best version of yourself.
Gemini: You're Taking Charge
You know what you want, and you're not afraid to go after it. You're taking control for the first time in your life, and you've never felt better.
Cancer: You're Breaking Free
Your heart is bursting with intense emotion and extroverted passion. You know your worth, and you're eliminating toxicity and what no longer serves you.
Leo: You're Reflecting And Healing
You come such a long way this year, but it's not over yet. The things you were once passionate about no longer serve your best interest. You're revamping your entire routine in hopes of finding peace of mind.
Virgo: You're Speaking Your Mind
You may not be seeing eye-to-eye in your relationships during this time, but that's simply because you kept your true feelings locked away for so long.
Libra: You're Doing Things Your Way
Your current routine may not coincide with your core beliefs, but that doesn't mean you can't embark on a new journey. On the contrary, you are on the right track, and it's just a matter of time before it all makes sense.
Scorpio: Your Authenticity Is Shining Through
You are your own muse. Your colorful expression is shining through, and you're having conversations about your bright future. The only way is up.
Sagittarius: You're Setting Healthy Boundaries
What you consider familiar and safe no longer measure up to your values and self worth. Find the beauty in solitude. It will bring you deep healing.
Capricorn: You're Overflowing With Charisma
They say your life is a reflection of your thoughts, and you're in a really good place. You're making the right choices, not to mention surrounding yourself with the right people. This is your moment. This is your success.
Aquarius: You're Evolving In Every Way
You are releasing what no longer serves you, and despite how uncomfortable this all may seem, just know that you are headed in the right direction. Just keep swimming.
Pisces: You're Sorting Out Your Priorities
Not that you're a creature of habit, per se, but you are no longer a fan of your day-to-day routine. You've thought about this time and time again, and you're slowly watching your thoughts become reality. Yes, you are awake.