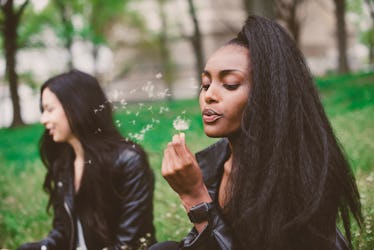 Your Weekly Horoscope Is All About Harnessing Energy From The Super Blue Blood Moon
Phew! The entirety of January felt like one slow crawl up to the top of a roller coaster, with all of us passengers nervously wishing we hadn't gotten on the ride in the first place. However, once the super blue blood moon happened on Jan. 31, the drop finally came — and we survived. The lunar eclipse likely brought closure to some significant periods in your life. Some of us are grieving over things they've lost and the rest of us are happy to leave the past in the past. Either way, we're all entering a new stage in life and this is only the beginning. Your February 5, 2018 weekly horoscope is a quiet one, full of contemplation and rest. This will give you the chance to assess the damage before you make your next move.
This is also a good time to prepare for the solar eclipse we've got coming up on Feb. 15. While we just experienced some unforeseen endings with the super blue blood moon, the solar eclipse in Aquarius will hand us some new opportunities. If you spend this week healing up, planing ahead, organizing, or just crying your eyes out (if you need to), you will build all the strength you need in order to do some major conquering later this month.
Aries
This week will be all about reflection, Aries, and you'll be grateful for it. Lately, it's been one crazy thing after another and you likely have so much on your mind that you need to process. Give yourself some quiet alone time to plan your next move. Mix in some quality time with your closest confidants as well. It'll definitely help realign your thoughts.
Taurus
You've got your eyes on the prize, Taurus, and you will be working your tail off this week. Organization, planning, and structure will be the central theme of your days but please reserve some time for yourself. I know you're proud of your managerial skills but your heart is trying to tell you something. Take time to listen. Don't let work drown the sound out.
Gemini
Gemini, this is the perfect week to take some first steps, to finally put work into a project you've been daydreaming about. The super blue blood moon powered you up with ideas and now you've got some calm coming your way. Use this time wisely. Your burgeoning creativity will likely catch the eyes of everyone and you'll bask in the attention.
Cancer
You're likely feeling a bit more naked than usual, Cancer, and it's scary. Your financial and emotional comforts have been called into question and this week, you'll be forced to face some problems you've been trying to ignore. Move slowly this week and keep the spending to a minimum. This month will be a trying time for your wallet.
Leo
You had an exhilarating ride on the super blue blood moon, Leo. Now's the time to take it easy. The upcoming solar eclipse on Feb. 15 is emanating its effects already and it'll likely cause you some emotional upheaval, especially in your relationships. Navigate them with caution. You should be especially attentive to your family or romantic partner. It could prevent further drama.
Virgo
The super blue blood moon likely brought you some closure, Virgo, or allowed you to finally say goodbye to something that you've had trouble letting go of. This is a transformational time and while it's making you stronger, the pain is real. Give yourself the freedom to heal however you like, no matter how messy it may be. You deserve it.
Libra
The emotional baggage was lifted from you on the super blue blood moon, Libra. Now, you have the opportunity to make some serious moves in your life. Allow yourself to embrace the superstar you are right now. With all the creative and inspirational energy fueling your actions, there's nothing holding you back this week.
Scorpio
The super blue blood moon drop-kicked you straight out of your comfort zone, Scorpio. Exciting prospects are coming your way. You might even be a little nervous because let's be real, change is scary. However, there's nothing to be nervous about. Challenge yourself to take on intimidating responsibilities. The stars promise you can handle it.
Sagittarius
You were left feeling totally reenergized by the super blue blood moon, Sagittarius. This week, you should definitely put that energy to good use as much as you can. Things will start to become confusing for you as the solar eclipse on Feb. 15 approaches. The disarray will be less taxing to your happiness if you create fond memories this week that you can look back on.
Capricorn
This week, you need to spend time preparing for the solar eclipse on Feb. 15. It'll affect you big time. If you spend this week grounding your energy and getting work done, it'll be a piece of cake. On the other hand, if you spend this week procrastinating on what truly matters, the solar eclipse could have you running for the hills.
Aquarius
There's electricity coursing through your veins this week, Aquarius. You're inspired. Now's the time to make some serious damage. You'll have some brilliant ideas popping up in your head but you'll forget them if you don't write them down and make plans. Don't let yourself be a lazy genius, Aquarius. Be the genius that makes a difference.
Pisces
Breathe, Pisces, breathe. You need to complete one thought before you start another. The super blue blood moon left you feeling like there's so much you need to get done but you won't accomplish any of it if your mind is racing. Set aside time to meditate and journal. Define one goal at a time. Things will start to clear up once Pisces season begins but you've got to survive the tail end of Aquarius first.