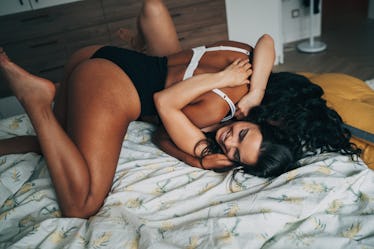 Here's Your Favorite Way To Orgasm, Based On Your Zodiac Sign
filadendron/E+/Getty Images
As long as everything's consensual, there's no wrong way — and a lot of really, really right ways — to get frisky. No matter who you are, finding your favorite way to orgasm can add an extra spark to your already steamy sex life. Of course, like all good things in the year 2020, astrology may have a celestial say in how you like to do the dirty. In fact, looking into each sign's number one way to hit the finish line can be both erotic and enlightening.
From prolonging your orgasm to turning up the heat in front of a mirror, there is no shortage of ways to reach the big O. While you may know exactly the right moves for you, it can be exciting to try something new between the sheets. Perhaps you invite some toys or blindfolds to the party or you prefect your dirty talk as you start getting it on. Whatever you're into, the most important thing is communication. Being able to discuss your desires and boundaries is the only way to ensure that everyone is on the same page.
And if you're looking for some inspiration, here is how every zodiac sign likes to climax.