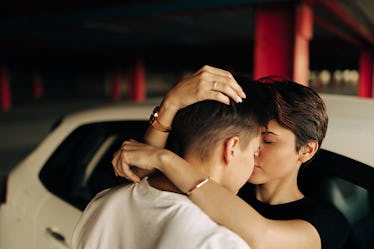 Your Favorite Sex Move, Based On Your Enneagram Type
If you love astrology and learning more about the nuances of personality, you should totally check out the Enneagram type tndicator. This test highlights certain traits and behaviors of each of its nine types. And, believe it or not, you might have a favorite sex move based on your Enneagram type. Don't be surprised if your old standby sex move actually lines up really well with the traits of your type, either.
Alternatively, if you're in the market for some sexual inspiration with your bae, it could be useful to figure out what your Enneagram types are beforehand. It can teach you a lot about your compatibility, while also highlighting areas of conflict you might run into. For instance, as a type four, I want to feel unique compared to others. In sexual settings, it can be fun to explore things that feel totally unique to my relationship with that specific person. Similarly, it can help to know that I prefer uniqueness in my relationships because I can find partners who enjoy spontaneity and creativity. However, there are other types, like the loyalist, that may find my preferences a bit frivolous or unnecessary.
If you're interested in knowing more about what sex move would complement your Enneagram type, check out the following position ideas.