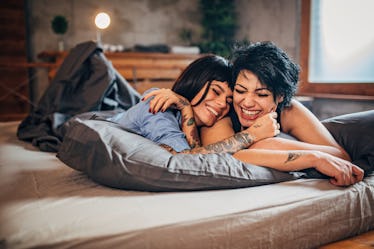 Your Favorite Position To Cuddle In, Based On Your Zodiac Sign
Hirurg/E+/Getty Images
After a long day, there's nothing better than snuggling up with someone you love. Whether you're a big spoon, a face-to-facer, or you live for someone scratching your back — there's no wrong way to canoodle with your crush. Of course, if you've always wondered about your favorite position to cuddle in, it may be helpful to take astrology into account.
Apart from being a sweet and sexy way to connect with your date, cuddling can have some serious health benefits. According to a 2017 Current Psychiatry Reports article, lying down with your boo has been linked to lowering rates of stress. While you may already know the external benefits of snuggling with your sweetie (it can feel really good), snuggling has also been linked to increasing rates of serotonin, a neurotransmitter for happiness in your brain. Moreover, cuddling with someone you care about can also up your levels of oxytocin, a hormone linked to love and deeper bonding.
Whether you're a lovely Libra that likes to look your boo in the eyes or an adventurous Sag that needs to take some space for themselves, here is every zodiac sign's favorite way to cuddle.