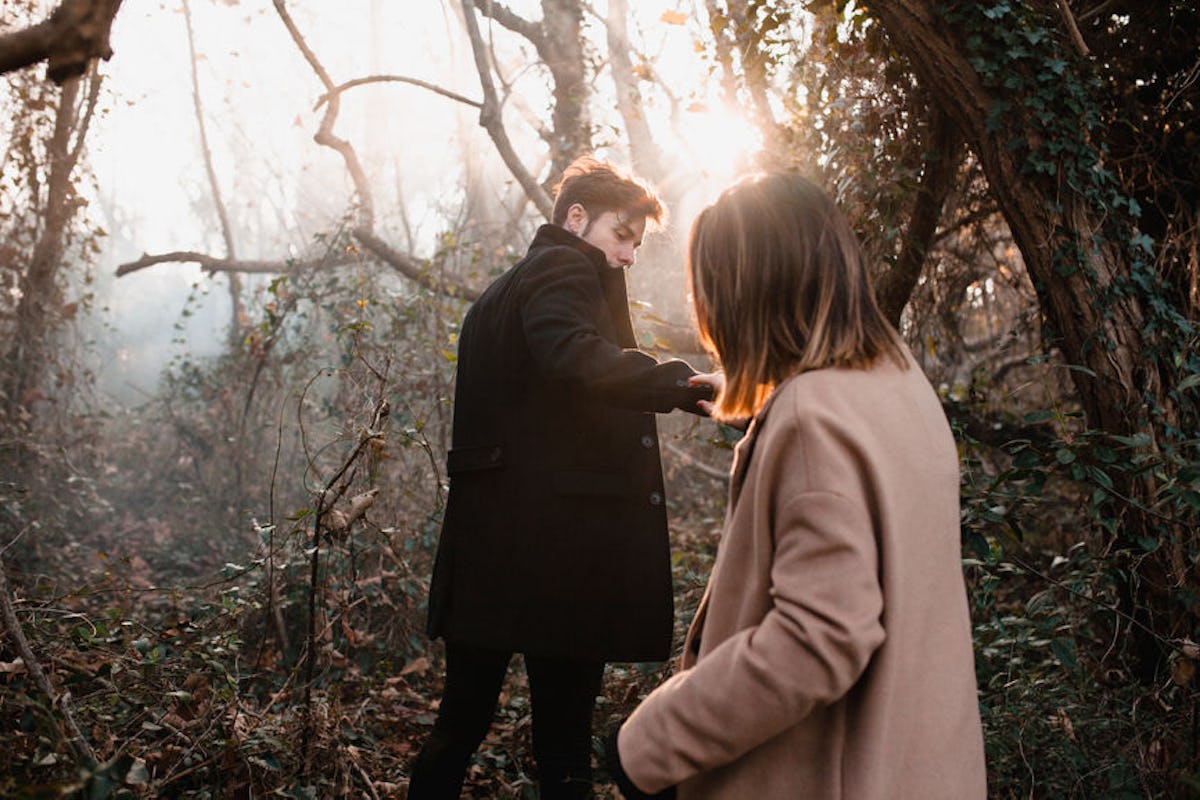 Your Autumn Equinox Love Horoscope Is Here & It's Hauntingly Enchanting
So, is love really in the air? Or is it just "cuffing season"? You know, during the fall and wintertime, when everyone suddenly decides to get hitched, just because? Temperatures go down, and we're all in a corner lovesick, watching Twilight. Anyway, your Autumn Equinox 2018 love horoscope is looking good, stargazers. The whimsical fall vibes are real, and we have no choice but to bask in its magic. I, personally, have a love-hate relationship with the fall, but even then, it still gets me every single time. I normally prefer the spring and the summertime; however, the minute fall rolls around, I'm already out shopping for scarves in my Ugg boots —and did I mention I live in Miami. I know, who am I?
Now, if we look to the stars for love this season, you'll notice that Venus, planet of love and beauty, is currently swimming through the underworld in smoldering Scorpio. In astrology, Venus is a symbol of our seduction style, money, relationships, values, beauty, and all things related to pleasure, in general. Scorpio, however, isn't so adorably charming. Instead, this water sign is pushing us to look beneath the surface, in terms of our relationships and values. How deep is your love? Are you acknowledging the shadows within your relationships? Or perhaps you're not being completely honest with your partner? Careful, Venus in Scorpio doesn't do well with liars. Oh, and Venus will retrograde on Oct. 5, so you won't get away that easy.
In the meantime, here's a closer look at your love life this autumn season:
Aries: You're Making Intimate Connections
Venus is sprinkling its abundance and Scorpionic intensity over your intimate eighth house of sex and transformation. Are you ready to merge mind, body, and soul? Intense connections are on the horizon for you.
Taurus: You're Making Deep Commitments
You're highly passionate about your current relationships, and future prospects during this time. With Venus traveling through your charming seventh house of partnerships, you're loyal and deeply committed.
Gemini: You're Crushing Hard In The Workplace
With flirtatious Venus skipping through your practical sixth house of work and day-to-day routine, you're obsessing, and perhaps insatiably attracted to someone you see on a daily basis.
Cancer: You're A Smoldering Temptress
Venus is passionately strolling through your sexy AF fifth house of play, romance, and self-expression this season. This is the house of LOVE, Cancer. Do you know what this means?! You. Are. Smoldering. Wowza!
Leo: You're All About The Self Love
It's not that you're against relationships these days, Leo. Truth is, you're craving something real this time, and you're not about to settle for just anyone. However, mirrors on the ceiling are always welcome this season.
Virgo: You're Craving Mental Stimulation
Sexting much? With gorgeous Venus sliding through your chatty third house of communication, you're craving some deep conversations, and tantalizing text messages. Who's your next victim, Virgo?
Libra: You're Splurging On All Things Sexy
Feeling yourself? Venus is sprinkling its charms right over your pleasure-loving second house of possessions, values, and self-worth. Shopping for the latest sex toys? Or perhaps some new lingerie for bae?
Scorpio: You're Intoxicatingly Charismatic
Gorgeous Venus is sitting right over your sign, and first house of self this season, Scorpio. Here, the goddess of love is incredibly seductive and charming, as she on the prowl for a smoking-hot love interest, while sprinkling more love over your current relationships.
Sagittarius: You're Secretive And Alluring
Secret love affair? The planet of love is traveling through your mysterious twelfth house of karma, healing, closure, and subconscious dreams. You might not be as expressive as usual; however, you may unconsciously attract karmic lovers during this time.
Capricorn: You're Meeting Interesting Strangers
Are you going to talk to that guy staring at you from across the room? With Venus sliding through your social eleventh house of friendships, groups, and extended network, you're likely to cross paths with a fellow mystic during this time.
Aquarius: You're In The Mood To Be Dominated
With sensual Venus traveling through your authoritative 10th house of career, and reputation in the world, you're chilling in the C-suite, and craving the salt and pepper special. In fact, you might also cross paths with someone at the office.
Pisces: You're Craving Sexy Adventures
The planet of love is wandering through your expansive ninth house of travel and personal philosophy this season, and you're channeling your gypsy spirit. Taking a leap of faith? Perhaps an exotic trip somewhere far away? You're craving intensity and excitement, Pisces.