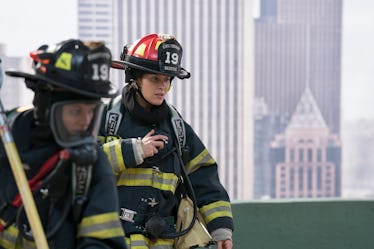 You Don't Need To Watch 'Grey's Anatomy' To Watch 'Station 19,' So Get Ready To Dive In
ABC/Mitch Haaseth
The next big Shonda Rhimes obsession has arrived, even if you're not already hooked on her other shows. Station 19 might be a spinoff of Grey's Anatomy, but that doesn't mean you have to be a super fan — or even a casual fan — of the long-running hospital drama to get into it. Do you need to watch Grey's Anatomy to watch Station 19? Knowing the ins and outs of Grey Sloan Memorial Hospital might pump you up for the spinoff, but it's not a prerequisite.
Sure — familiar face Meredith Grey (Ellen Pompeo) appears in the pilot episode of the new series. You can also catch Miranda Bailey (Chandra Wilson), considering her firefighting husband Ben (Jason George) is a main cast member. But fresh face Andy Herrera, played by Jaina Lee Ortiz, is at the center of Station 19 — a Seattle fire house located just a few short blocks from the hospital Grey's fans have come to know and love. While the institutions are linked, Andy stands on her own, even if she does have similarities to other Shondaland leading ladies.
"The women leading all of the shows have the same thing in common: They are very independent, successful, hard-working women and they'll go over whatever man they're in love with to get to where they want to be successfully. That speaks a lot about their characters," Ortiz stated, as reported by The Hollywood Reporter.
"You get the best of both worlds," actor Alberto Frezza has said of the show's relation to Grey's. "You get to see what doctors do and how they respond to calls and now you get to see fire fighter and how they live their day to day lives, not only in work environment but also on a personal note."
Viewers of Grey's were introduced to Andy in the March 1 backdoor episode into Station 19, "You Really Got a Hold on Me." Now they'll get to explore her and her team's everyday high-stakes life, both work and social. Andy is the daughter of the station's captain, and in addition to fighting fires, she'll be dealing with appears to be a brewing love triangle between her high school sweetheart Ryan (Alberto Frezza) and station lieutenant Jack (Grey Damon.)
Shonda Rhimes serves as executive producer on the project, while the show was created by show runner Stacy McKee. McKee has been a writer and producer on Grey's for it's whopping 14-season run so far, so she has plenty of Shondaland and TV drama experience to pull from. The firefighting focus seems like a natural next step for this universe, rife with action, emotion, and pressure-packed situations.
"I just loved the idea of this world, this firefighting world, and the more research I did about it, the more I fell in love with it. It seemed like the perfect place to have this really messy, dysfunctional work family with lots of fun and lots of adrenaline," McGee revealed to E! News.
Station 19 is, as loyal Shondaland viewers know, not the first spinoff to come out ofGrey's Anatomy's massive success. The Addison Montgomery-centric Private Practice debuted in 2007 and ran until 2013. While the show had the Shonda formula of revolving around a personal and professional balance, it looks like Station 19 will be a tad bit more action packed.
Grey's Anatomy has been on since 2005. That's pre-iPhone, pre-Jason Tremblay's birth, and pre-Obama presidency. It can't run forever, can it? The series' impact is significant to TV's history, so I have to put my trust into its subsequent spawns. Station 19 looks like it has the makings of a riveting drama, so it's got my attention already. Shonda Rhimes might be parting with ABC for Netflix, but the legacy surely lives on.