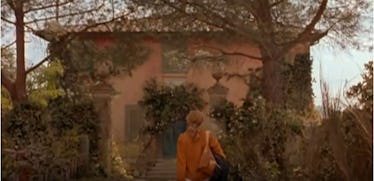 You Can Rent The House From 'Under The Tuscan Sun,' So It's Time To Catch A Flight
Who wouldn't want to jet off to Tuscany to gain a fresh perspective on life? In the classic romantic comedy, Under the Tuscan Sun, that's exactly what one writer did — but viewers were hardly ready for Bramasole, a luxurious estate that anyone would love to call their home, IRL. Frances Mayes had her work cut out for her when she first arrived at this charming fixer-upper, and it turned out to be exactly what she needed. Lucky for you, a Tuscan fairy tale of your own just may be in the cards, because you can rent the house from Under the Tuscan Sun for your next getaway.
It's about time you grab your girlfriends and start planning your trip, because the rolling hills and vineyards of Tuscany await. Villa Laura (although it was referred to as Bramasole in the movie) sleeps up to 20 people. According to the listing on VillaVacations.com, it features 10 bedrooms, and 10 and a half marble bathrooms. (Yes, that means you and your girls can ask more than a few friends to tag along with.)
The villa is situated next to a farmhouse that has a beautiful rose garden you'll swoon over. And as for the winos in the crew? Your hearts will melt as you sift through the villa's pristine selection, and you can also arrange for a tasting during your stay. Sipping wine in Italy ought to be at the top of your bucket list, after all. If it's not, I'd scribble that in right now.
After you get settled in and pour yourself a glass of fine wine, take a dip in the marble swimming pool, and pose for the perfect Instagram shot. Sit back and relax in the jacuzzi as the sun begins to set over the hills, and get the wood-burning pizza oven going for a delicious dinner.
While the villa itself has been around since the 16th century, it has been fully restored. There's Wifi in all of the rooms, so you'll be able to keep up with your Instagram story while you're there. Wake up and gaze out of your window in the morning at the beautiful countryside. You and your guests can even hike on the road alongside the estate if you're looking to get a little cardio in the morning, or simply want to explore the property from outside the villa grounds.
OK, this all looks and sounds like a total dream come true, but it costs a pretty penny. Needless to say, you should start saving up now. The property requires a one week minimum stay, and the price varies depending on what time of year you go. Unlike a typical stay at a hotel, you are renting the entire property when it comes to Villa Laura, and this highlights five-star amenities — for example, a light maid service and the option to get chef-prepared meals (for an additonal cost). The site also mentions that Villa Laura is booked up for the rest of 2018, but 2019 is still in the cards for you and your girls.
You may not be staying in Tuscany for good (Although, you'll start to consider it after you lay your eyes on this place yourself), but a week-long getaway in Italy is #travelgoals. Again, the price is a pretty penny, but the more people you have, the easier you can divide the cost. The beautiful villa has changed since you've seen it in the film, but you and your favorite people could live your best lives with what this place has to offer you.