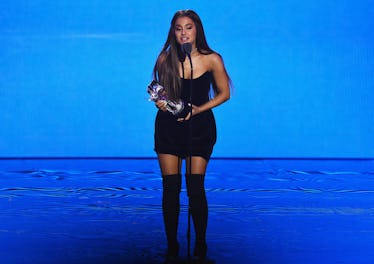 Ariana Grande Is Getting Political On Her 'Sweetener' Tour With This Awesome Move
Theo Wargo/Getty Images Entertainment/Getty Images
Going to see Ariana Grande on her Sweetener tour? Lucky you, because not only are you in to hear an amazing setlist, but you can also get registered to vote. You heard me, people — you can get registered to vote at Ariana Grande's Sweetener tour, thanks to this awesome move.
The "Thank U, Next" singer apparently partnered with HeadCount, an organization that partners with musicians to promote voter participation, to give her fans an opportunity to get registered. "AMAZING NEWS. @ArianaGrande invited us to register voters on her Sweetener tour. Together, we designed #thankunextgen, a program to help Ariana's fans make their voices heard. Volunteer with us at one of her upcoming shows," the organization tweeted on March 15. And there's more. Concertgoers can also text ARIANA to 40649 to register, volunteer, get in touch with their legislators or receive a reminder to register on their 18th birthday, per CNN.
Hear that? That's the sound of me starting a slow clap over here...
Elite Daily reached out to representatives for Grande for comment on the matter, but did not hear back by the time of publication. However, Grande seems pretty pleased with the partnership (as well she should be) — on March 19 she retweeted HeadCount's post about the campaign, adding a black heart emoji.
It's a major move, considering the bad rap that young people get when it comes to voter participation. According to the Pew Research center, although millennials are approaching the Baby Boomers in their overall share of the American electorate, only about half of millennials eligible to vote turn out in presidential elections. It's not great in midterms, either: in 2018, only about 13 percent of voters were age 18 to 29. However, by comparison to what voting rates have been, things are looking up — about 3.3 million voters between the ages of 18 and 29 voted early in 2018, which was a 188 percent increase from 2014. And in tough states like Georgia and Texas, early turnout by 18-29 year olds had reportedly spiked a whopping 500 percent in the days before the election. Then here comes Ariana, pushing the needle forward.
The tour officially kicked off on Monday, March 18 and some concertgoers were quick to document their experiences at the booths.
Others just couldn't get over the news itself.
While this move may come as a shock to those who don't keep that close of an eye on Grande, this is far from her first political statement.
For example, she seemed to take a shot at President Trump and his hostility toward immigrants and refugees in her video for "Thank U, Next," which showed her reading a book called, "Immigration and Refugee Law and Policy" while dressed up as Legally Blonde's Elle Woods. Not to mention, her reaction to his presidential win wasn't all that exciting either — like, she apparently wrote on social media that she was in "tears," per Billboard. Elite Daily reached out to the White Hosue for any comment or response to her apparent digs, but did not immediately hear back.
Aside from Trump, she's also spoken out in support of gun control and the Black Lives Matter movement, sharing a song in 2016 alongside Janelle Monaé that was dedicated to those who lost their lives at the hands of police.
They're touchy subjects, for sure, but it seems well worth mentioning to the singer. In fact, Grande sounded off about the idea of receiving backlash in an August 2018 interview with Elle magazine, saying:
There's a lot of noise when you say anything about anything. But if I'm not going to say it, what's the f****** point of being here? Not everyone is going to agree with you, but that doesn't mean I'm just going to shut up and sing my songs. I'm also going to be a human being who cares about other human beings; to be an ally and use my privilege to help educate people.
Reason No. 23628 to stan her.
So if you're heading out for the Sweetener tour, it looks like you're really in for a show. Get your tickets out and those IDs ready.