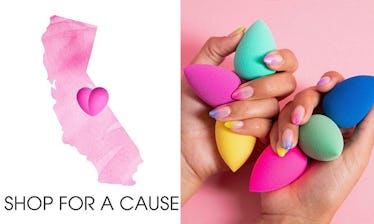 Beautyblender Is Donating & Matching Proceeds Today To Help Those Affected By The California Wildfires
beautyblender on Instagram
The recent California fires that have blazed through cities from Malibu to Thousand Oaks are now the deadliest wildfires in the state's history according to CNN. With up to 44 dead and countless homes lost, thousands of acres continue to burn. Now, a fan-favorite beauty brand is getting involved and lending a helping hand to the victims of the fires. Today, you can help those affected by the California wildfires thanks to an initiative by Beautyblender. Today, the brand will donate and match its proceeds to The California Community Foundation Wildfire Relief Fund, an organization helping those who have been displaced (temporarily and permanently) by the fires, who have been affect physically or mentally, and those whose homes have been destroyed by the fires.
Since the fires started, more than 100,000 acres of land have already been destroyed and more than 300,000 people have been forced to evacuate, according to CNN. And to make matters worse, it's not just one fire putting people in danger. It's three: the Camp Fire, which burns just north of Sacramento, as well as two others, Hill Fire and Woolsey Fire, located in Southern California. Together, firefighters are working tirelessly to save homes and lives. But considering the amount of people already devastated by these fires, every little bit of help counts. Luckily, all sales made today on beautyblender.com will be matched by the company and donated to the aforementioned organization, which is also planning to rebuild homes and offer financial assistance to those affected.
Beautyblender took to their Instagram to announce the initiative. In a post with a pink silhouette of California and a heart made of two of the iconic sponges, the caption read, "ALL proceeds from beautyblender.com will be DONATED & MATCHED today for @calfund Wildfire Relief Fund. Link in bio to shop. The California Community Foundation's Wildfire Relief Fund supports intermediate and long-term recovery efforts for major California wildfires, as well as preparedness efforts. #wildfirerelieffund calfund.org/wildfire."
So, here's where we come in. The amount donated comes down to each of us beauty junkies. The more we buy today, the more Beautyblender will raise for those in need — and all it takes is us buying the things we already spend our money on anyway. In case you're not sure what to buy from the brand, here's a suggested shopping list to start racking up that donation amount.
Beautyblender Sapphire
Chances are you already own the iconic pink sponge we all know and love, but the Beautyblender Sapphire ($20; beautyblender.com) adds an unexpected pop of color to your vanity.
Instaclean
Now that you have the sponge, you're going to need something to clean it. You know about the solid soap made especially for your makeup sponge, but there's also this waterless sponge cleaning spray. It's like a dry shampoo for your sponge! The Instaclean ($16; beautyblender.com) can is a quick-change spray that allows you to switch from one product to another without having to do a full wash.
Though you can use any foundation with your sponge, Beautyblender released the perfect invention: Bounce 2.10 ($40; beautyblender.com). It's a matte, weightless, full-coverage foundation that comes in 32 shades and perfectly releases into a sponge-shaped vessel that makes application so easy.
In case you've already begun your holiday shopping (or building your wish list), this Blender's Delight Beauty Bundle ($40; beautyblender.com) has everything you need in one. It's valued at $68 and comes with two sponges, two solid cleansers, and a case to keep your sponges looking like new.
Go ahead, spend some cash today. It'll be good for your makeup stash, and even better for those affected by the California fires.