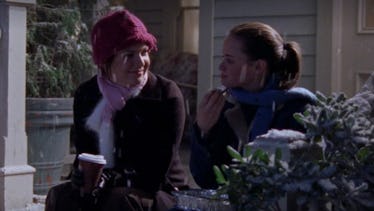 You Can Visit Stars Hollow From 'Gilmore Girls' This Holiday & Have Lunch At Lorelai's
Netflix
If you've dreamed of strolling through Stars Hollow just like Rory and Lorelai Gilmore, Christmas might have come early for you this year. You can have lunch at Lorelai's this holiday season and live out your Gilmore Girls dreams. Returning this year on Dec. 21, 2019, the Warner Bros. Studio Tour in Hollywood is offering a "Gilmore Girls Holiday," which is included in your purchase of the regular Studio Tour, Classics Made Here Tour, or Deluxe Tour. As a hardcore fan of the show, this is a must-do if you're spending time in Los Angeles this season.
According to a recent press release, the pop-up experience kicks off on Dec. 21, 2019 and runs through Jan. 5, 2020, so you'll want to book something as soon as possible if this sounds like a dream come true. I know every time I rewatch the series, I always end up wishing for three things: to eat lunch at the Dragonfly Inn, walk around town with a cup of coffee from Luke's Diner in hand, and visit Lorelai's house. Well, there must be a genie around, because my wishes are coming to life.
Fans will have the opportunity to explore the backlot, which was the set of Stars Hollow in the show. It will be transformed once again to look like that charming small town you fell in love with through the TV screen. You'll have the opportunity to enjoy coffee from Luke's, visit Lorelai's house, and take pics in the Stars Hollow Gazebo.
If you've never been on a Warner Bros. Studio Tour before, you're in for a treat. As part of the experience, you'll be dropped off at Lorelai's house, where you'll have a chance to see props and costumes from the series like Lorelai's 1999 Jeep Wrangler and the mailbox where Rory received her acceptance letter from Yale. According to the press release, the exteriors of Lorelai's and Sookie's homes will be decked out in the spirit of the season. You'll also be able to purchase and enjoy food, including Lorelai's favorites, Pop-Tarts and Luke's coffee.
After enjoying these tasty treats, you may walk around the recreated Stars Hollow set like your favorite characters. You might even be able to recreate some of your favorite scenes from the iconic series. For instance, snap a pic pretending to be Kirk as you're looking for the last of the Easter eggs hidden in town. Take a pic on the steps of Stars Hollow High School with your bestie like you're about to head in for class. And of course, don't forget to pose for a pic in the gazebo. Get one sitting on the steps like you're Rory, or one of you dancing with the Luke to your Lorelai. This year, a must-see is Luke's Diner. Pose for a selfie with your cup of coffee like you're Lorelai.
When you're ready to post your snaps, make sure to caption at least one pic with, "Oy with the poodles already." (It's probably what Lorelai would do.)
This article was originally published on