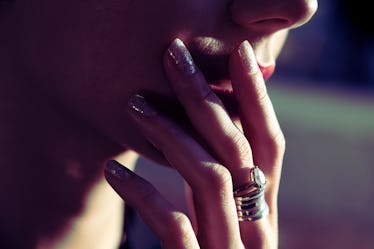 It's Possible To Get These STDs From Oral Sex, So Here's How To Stay Safe
I think one of the greatest misconceptions around safe sex — especially when it comes to the spread of sexually transmitted infections — is that you only have to be cautious during vaginal or anal sex. Think again, friends. As far too many sex ed classes failed to inform me, it's totally possible to get a number of STIs from oral sex.
"Technically, most STDs can be spread through oral sex," says Dr. John Rimmer, Chief Medical Officer of Biem Health, the world's first virtual sexual health center. "The risk of such depends on the particular type of oral sex, what STD is present, and whether the 'recipient' or the 'performer' is infected. For example, the risk of acquiring HIV by giving oral sex to an HIV-positive female is very low, but the risk of acquiring HIV by giving oral sex to an HIV positive male is somewhat higher (although still lower than vaginal or anal sex)."
In other words, there are a ton of factors at play that make it more or less likely that you'll pass on, or receive, an STI during oral sex. And while the odds of spreading STIs orally are a bit lower than via anal or vaginal sex, it definitely happens.
I've been trained to treat oral sex pretty cautiously since middle school (seriously, my mom used to send links to articles about celebrities developing cancer from oral sex to my Hotmail email address). But if this is news to you, and you're wondering which STIs to be most cautious of (read: pretty much all of them) or how best to reduce your risk of contracting or spreading an STI during oral, here's what you need to know.