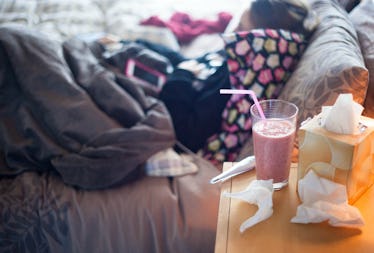 These STDs Have The Same Symptoms As The Common Cold, So Consider Seeing A Doctor
I don't think I've ever in my life taken a cold seriously. Sure, I stock up on meds and snacks while I hibernate under the covers, but my healthcare regimen usually stops there. As I binge-watch Gilmore Girls for the millionth time, I'm not exactly thinking about cold-like symptoms of STDs. Wait. Is that a thing? Unfortunately, yes. Some STD symptoms are frighteningly similar to cold symptoms, which is why you shouldn't necessarily brush off every fever and ache.
Dr. Tami Prince, OB-GYN and owner of Women's Health and Wellness Center of Georgia, LLC, tells Elite Daily, "The common cold, also known as an upper respiratory infection (URI), is caused by the rhinovirus so any STD that is also caused by a virus can mimic cold symptoms." She adds that the STD most likely to feel like a cold is actually HIV but that others, like hepatitis, can have similar symptoms.
If, like me, wish it were easier to tell the difference between STDs and a cold, Dr. Prince is here to explain why some symptoms might be similar. "When your body becomes infected with a virus, the immune system's natural response is to fight off the infection and rid it from the body. This response usually manifests as flu-like symptoms such as chills, fever, body aches, loss of appetite, fatigue, nausea, vomiting, and diarrhea. Since HIV and hepatitis are also viruses, the immune system's response to these infections is similar to that seen in URI."
I suppose that's reasonable. But have you ever been sick and Googled your symptoms? I'm pretty sure after that, you thought you had two weeks to live because same. That's why it's important to know that while some symptoms might be similar, there are others that might indicate a more serious infection.
According to Dr. Prince, "Unlike the common cold, HIV and hepatitis infections usually overpower the immune system and continue to attack," which means that eventually you'll experience symptoms that feel more severe.
While HIV and hepatitis are the STDs most commonly associated with cold- and flu-like symptoms, I spoke to Dr. Cindy Duke, OB-GYN and medical director of the Nevada Fertility Institute, who says that there's one more STD that might feel like this — gonorrhea, but only if left untreated.
If this news feels a bit overwhelming, I'm right there with you. So to help you make sense of it all, I asked Dr. Prince and Dr. Duke to break down exactly what HIV, hepatitis, and gonorrhea might look like.