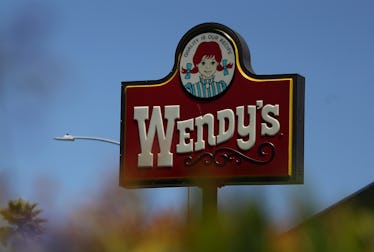 A Frosty At Wendy's Is Only 50 Cents Right Now & I'm So Ready For Dessert
Justin Sullivan/Getty Images News/Getty Images
This day in age, there are very few things one can buy for less than a dollar... aside from a gum ball, or maybe a small bag of chips from a vending machine. It's a little sad, if you think about it. Anyway, for a limited time only, you can get a Wendy's Frosty for only 50 cents, and it's truly a blessing from above. I have no idea what any of us lucky earthlings did to deserve this, but I love it.
Normally, a small chocolate or vanilla Frosty at Wendy's will cost you a dollar, which — don't get me wrong — is cheap AF, especially for something so amazing. But right now, Frosties cost a mere 50 cents, and I am praising all of the frozen treat gods. What perfect timing, with summer weather rolling in, right? This deal is coming at peak frozen dessert season — and correct me if I'm wrong, but it might actually be what dreams are made of.
Wendy's announced this glorious sale in an online blog post on Thursday, May 10. They didn't really delve into why they're offering this magical deal, other than mentioning that they did it once before. But really, who am I to question their intentions? The post was incredibly nostalgic, discussing how proud they are of the Frosty's unwavering delicious recipe and its rich history, and I'm always down for a little Frosty appreciation.
Per the blog post, the Frosty was first created in the late '60s. Dave Thomas, the original founder of Wendy's, wanted to create something completely unique for the chain's dessert menu. He also wanted customers to be able to eat with a spoon, and for the Frosties to maintain a light chocolate flavor so they wouldn't detract from the taste of their burgers. A friend quickly and meticulously developed the recipe for the Frosty, and it's been pretty much the same ever since. Wendy's boasts that it's unlike any other fast food dessert, and to be quite honest, I couldn't agree more. Frosties are bae.
If you're wondering how many 50-cent Frosties customers can order at once, I have some fantastic news. In the words of Lindsey Lohan circa Mean Girls, the limit (apparently) does not exist. First off, I'm really glad someone else needed clarification on this, because I am totally gonna go HAM on this deal. Also, the fact that it's unlimited is a little bit dangerous, and it's kind of unreal. Watch out world.
This wild and absolutely perfect deal goes hand-in-hand with a social media contest put on by Wendy's and MTV. According to Time, until May 31, fans can win a trip for two by uploading a photo of themselves with their 50-cent Frosty to either Twitter or Instagram. Entrees must include the hashtag #ThatFrostyLifeSweepstakes, and the winners will get to either see a concert or comedy show in New York, or they'll get a trip to Nashville. The flights and hotel are both included in the prize, so I'm definitely entering this right now.
I'll be completely honest, 50 cents is a good price for almost anything. You could tell me that a plank of wood is 50 cents, and I'd probably buy it, because why not? Anything for 50 cents is a good deal, but it's a pretty unreal deal for something as sacred as a Wendy's Frosty. TBH, it's the best summer news a gal could ask for. Whether you're more into those chocolate Frosties, or if vanilla Frosties are more your game, getting a ton of them is required. If you choose to dip your French Fries in them, go for it. I'm not judging you.