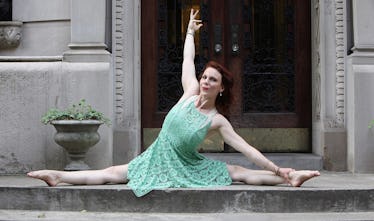 This Yoga Teacher Has The Best Advice For Using The Practice To Find Empowerment
If you've ever been to an intense vinyasa yoga class, you know it can be a physical and emotional rollercoaster that ultimately provides your mind and body with a sense of pure bliss by allowing you to release anything that doesn't serve you. Now picture adding an internal monologue and an element of storytelling to the class. Yoga instructor and actress Eli Walker uses yoga for empowerment to help her students rewrite their own life stories and create the personal narrative of their dreams -- all while practicing yoga.
Walker's unique approach to yoga integrates the art of storytelling into her classes, which are meant to empower her students to deconstruct the hardships they've faced in life in order to find more joy and inner peace.
Her "moving meditation" is called Divine Your Story, and it's basically the most incredible, therapeutic experience that you probably never even knew you needed.
When I spoke to Walker on the phone, I could hear the confidence and fearlessness radiating through her voice. Despite the big things she has on her plate -- including one-woman shows and, you know, singlehandedly transforming how we practice yoga -- her humble sense of humor was incredibly genuine:
I know people are probably wondering, 'Who's this red-headed yoga chick who can help me?'
But Walker's fiery red hair is simply one of her many boldly defining traits, all of which draw you in to the inspirational passion she's putting out into the world.
Armed with her BFA from NYU's Tisch School of the Arts and her 500-hour teaching certification in various forms of yoga, Walker combines her two passions by empowering her audience through one-woman shows and inspiring her students to be the heroes of their own epic journeys in life.
Picture one of the hardest moments of your life, and how out of control you felt. Walker's goal is to give you the ability to rewrite that feeling of helplessness, and empower yourself through a monologue that makes light of an otherwise difficult situation.
She tells Elite Daily,
Divine Your Story workshops use dynamic movement combined with theatrical devices to provide you with insight into your character -- the character you play in your life, and the stories you've been unconsciously telling yourself about yourself.
Walker includes writing prompts and self-reflection exercises in her classes to help her students redesign their "characters" and rewrite their life stories, allowing them to be the conscious authors of their own life novels:
I want to empower you to be the be hero of your own journey.
Each workshop ends with a deep meditation to guide you through the process of manifesting your best life using imagination, tapping into your desires.
Along with her Divine Your Story workshops -- which are available in studios in New York City, Los Angeles, and beyond -- Walker also teaches her method at public elementary schools in Harlem, New York, as a part of the Artistic Dreams International program.
She uses her Divine Your Story method to help students develop healthy responses to stress which, in many cases, is often related to factors outside their control, like social and economic issues.
She tells Elite Daily,
I want to empower children to create their own story before they have one.
Walker's mission is to help young people harness a power they may not even know they have to change their own story and manifest joy.
Seriously though, where was Walker when I was in elementary school? This looks like my literal dream in life.
When she's not teaching kickass yoga classes and empowering all sorts of individuals to live their best lives possible, Walker can be found on stage, using her stellar performance abilities to rewrite her own personal stories and take her audience on a journey through comedy, empathy, and catharsis:
I perform monologues that are relatable to my audience.
They can be as trivial and comical as me getting my period in a guy's bed and wanting to rewrite that night, or as significant as my dad making amends with me after not speaking for months while I was backpacking across India, because he didn't support my impulsive decision to go.
Regardless of whether or not you choose to attend one of Walker's Divine Your Story workshops, it's pretty hard not to relate to the incredible message of empowerment this woman is sending out into the world.
And if yoga just isn't your thing, you can totally attend her next one-woman show in New York City, if you're in the area.
You'll leave feeling empowered AF without having to move a single muscle.