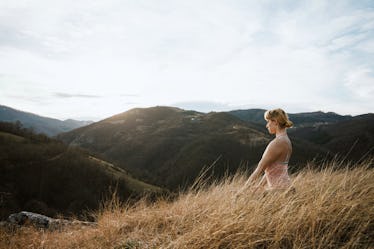 5 Yoga Poses For The Changing Seasons That Will Help You Embrace New Challenges Headed Your Way
Raise your hand if you have a least favorite season. Personally, I freaking despise winter and everything that unbearably cold, damp, dark, bitter season stands for. My intense hatred for winter is just one of many reasons why I personally need to practice yoga for changing seasons, so I can find positive ways to embrace change, even when all I want to do is cry about the cold and shiver at the first sign of a snowflake.
Whether you're a fellow winter-hater, like me, or you can't stand the thought of sweaty, humid beach days in the summer, practicing yoga as the seasons change will help you find your center and establish a peace of mind when it feels like time is slipping too quickly through your fingertips.
It's easy to become attached and comfortable with the conditions that you enjoy, but the world is constantly ebbing and flowing, and non-attachment is often key to finding balance and stability in life. Your body is strong enough to naturally adapt to any changes in the conditions surrounding you, but a few grounding, centering asanas will make the process easier and allow you to let go of any resistance or aversion you may have so you can stay rooted and content through it all.
Here are five yoga poses that will help you stay grounded through the inner and outer changes that each season brings. Flow through these asanas when you need a little help making a smooth and graceful transition in tandem with the seasons.