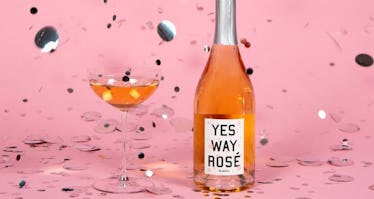 Your Favorite Rosé Just Got A Fun Upgrade In Time For The Holiday Season
Just because summer is over doesn't mean you have to say goodbye to drinking your favorite pink drink. Yes Way Rosé Bubbles is the perfect way to usher in the cooler weather, and also to have on hand at those upcoming holiday parties. The rosé-flavored bubbly offers a celebratory sip, so you can cheers your friends (or maybe even offer up a toast of your own) this holiday season.
Yes Way Rosé announced the launch of Bubbles on Tuesday, Oct. 2, and it can't be released soon enough. The sparkling pink wine is also known as Bubblé and hails from the South of France, according to Yes Way Rosé. The brut rosé is "crisp and effervescent," and features an exquisite hint of bubbles that will delight your taste buds. Most rosés offer floral and fruity notes, and Yes Way RoséBubbles doesn't stray far from the usual path. The bubbly pink drink offers invigorating notes of white wildflowers, stone fruit, and pink grapefruit zest, according to Yes Way Rosé.
So, now the important part. Where can you buy Yes Way Rosé Bubbles? The sparkling rosé will hit store shelves in October, according to the company. It won't be released everywhere at first, so don't be alarmed if you can't find it at your favorite wine shop. According to Yes Way Rosé, Bubbles will first be rolled out to Target stores nationwide sometime this month. But, the good news is that Bubbles will be here in time for all of your festive celebrations later this year.
If you're hosting a holiday party this season, Yes Way Rosé Bubbles is a tasty drink to serve alongside appetizers and other foods. Its diverse flavor profile makes it the perfect sip to pair with any snack including sweet and salty treats such as popcorn, french fries, cookies, and cake, according to Yes Way Rosé. Basically, Bubbles goes well with just about anything (including that holiday turkey and side of mashed potatoes). Not to mention, Bubbles just looks absolutely gorgeous when poured into a clear wine glass. I love watching the bubbles percolate throughout its gorgeous pink color.
You've probably seen other bottles of Yes Way Rosé at your local grocery store or wine shop. Their signature bold text label can't be missed. I personally love the way the modern label looks against the vivid pink rosé. I'm excited to buy a bottle of this for myself. (But, it also makes a great gift for your BFFs and any other rosé fans in your life.) I'm even more excited that Yes Way Rosé Bubbles will be released at Target stores first. You can usually find me in a Target (buying lots of things I don't need), but a bottle of Yes Way Rosé Bubbles is going to be the exception to my spending habits.
Keep an eye out for Yes Way Rosé in October. It's unclear how long the product will be around for, but I'm expecting it to last the entire holiday season. Cheers!