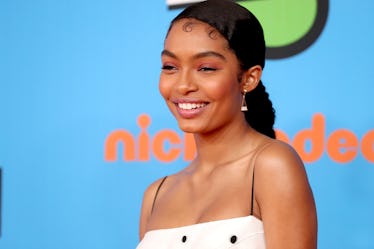 Yara Shahidi Wore "Hair Earrings" & Boom, I Just Found My Festival Season Look
Christopher Polk/Getty Images Entertainment/Getty Images
It's difficult to coin one person the Queen/King of hair goals. Tons of celebrities are getting creative with their looks, and I just can't keep up. After seeing Yara Shahidi's Essence cover though, she's definitely in my top five favorite hairstyles of the moment. I saw Shahidi wearing "hair earrings," so now I need to wear hair earrings.
Shahidi is no stranger to being on covers, especially Essence's covers, but this has to be one of my favorite looks of hers. Nai'vasha Johnson, her hairstylist, killed this look! The Grown-ish star shines on the cover wearing a white dress with cutouts (gorgeous) and natural makeup (brb I need to know what products she used). But most importantly, her hair stole the cover. Her fluffy, natural curly hair is a signature look, but I can't get over the jewels in her hair. It looks like she pierced her braids. Don't worry though, to replicate this look all you have to do is braid your hair and weave in hair jewelry.
I grew up with Essence permanently glued to my coffee table, so it's no surprise that I rush to see who graces the cover each month. My favorite thing about Essence is that I can see women with hair that either looks like mine, or simply peruse some diverse styles. This time, the magazine totally killed with Shahidi's bomb look.
See what I mean? Shahidi's braids look fierce and pierced. With every step that Shahidi takes in her career, she always makes sure to let everyone know she wants to use her platform to inspire others. This time, she's inspired me with her look. In an interview with Teen Vogue, she shared that embracing who she is means embracing her curls.
I think it's important to always accept your natural hair like the way it is when you step out of the shower, but it's OK to change it up. It's really about embracing who I am…curls are part of who I am."
Although Shahidi stays true to her curls, she isn't a stranger to adding small touches to change up her look. In the past, she's rocked slick ponytails with baby hairs.
She's also piled her hair up in a pineapple top-knot. For this look, instead of keeping the hair slicked down, she left her natural texture to fall where it wanted to. It does look like her edges have a little pomade, or hairspray to tame them a bit.
Shahidi has even gone full fro, but slicked down the top of her hair. I need to know what type of hair band she used for this look because this will be my go-to style this summer. This is giving me total Diana Ross vibes.
In the end, Shahidi loves adorning her hair with accessories. Flowers are her favorite, which you can recreate going into the Coachella/music festival season. Or you can change things up by pulling your hair back with a headband or scrunchie.
This spring and summer season are all about letting your natural hair shine, and adding a hair accessory (or more) to finish off your look is key. To recreate Shahidi's Essence hairstyle, try scoring an inexpensive set of hoop earrings and looping them into your cornrows.
Below, my favorite hair accessories that aren't exactly like this look, but in the same arena.
Yara Shahidi Inspired "Hair Earrings"
I recommend that you play around with the hoop earring size. You can go small, large, monochromatic, or mix and match.
Rose Hair Rings
Can you say a rose by any other name that would smell as sweet?
These give me cool-girl Victorian era vibes.
I can't wait until it gets warmer so I can rock "hair earrings" on a rooftop and credit Yara Shahidi. Somewhere in the distance, I can hear Drake saying "You a flower child, beautiful child, I'm in your zone looking like you came from the 70's on your own..."