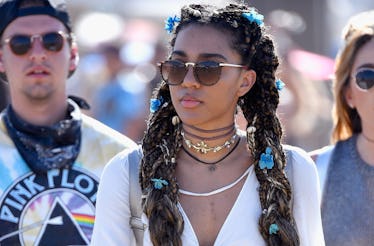 15 Trendy AF Festival Hair Accessories Under $20 (That Aren't Flower Crowns)
Frazer Harrison/Getty Images Entertainment/Getty Images
Four years ago, I attended my first Coachella — I passed on packing the trendy flower crown, but when every other girl at the festival had one, the FOMO became real. Fast forward to now and Coachella is still the official flower-crown holiday, but FYI there are other festival hair accessories in the sea (or shall I say, the desert).
When I returned the next year, flower crowns were still a hit (and flash tattoos!). Though the bloom-filled headwear wasn't as popular as when I attended my first Coachella, so many girls were still rocking the look. Again, I passed on the popular headband, but opted for glittery space buns — but now looking back, I realize they are just as cliché, if not more, than the flower crown.
This year, I'm determined to nail my Coachella style. Rather than the been-there-done-that trends you can find all over Pinterest, I decided to opt for more of a vacation resort vibe while planning my Palm Springs wardrobe. In my search for ways to stray away from the obvious looks, I found so many hair accessory trends that are just as music-festival appropriate, but feel a whole lot cooler. From '90s-inspired baubles to cruise-style headwear, I deem these the new flower crowns of Coachella 2018.
Head Scarves
I'm all about a headscarf! On bad hair days, I usually just wrap a silk square around the front of my head and create a bow at the top. But when you're stuck in the desert, a pre-tied, elastic-backed headband is a much more practical option. This festival season, throw on a brightly printed headband and pair it with a white lightweight dress, gold hoop earrings, and some raffia accessories. You'll look more Positano than Palm Springs, but there's nothing wrong with that.
Hair Piercings
Whether you're planning on wearing one braid, 10, or a few micro ones, embellish your plaits with hair piercings. They look like tiny hoop earrings or metal beads, and similar to the hair jewels you wore in middle school, they give your style a little extra sparkle. Braids are cool, but pierced braids are Coachella ready.
The Bandana
When you're not using it around your face to keep desert dust out of your lungs, you can tie a simple bandana around your hairline, the base of your ponytail, or around your topknot for a cute, yet functional touch of style. It keeps your hair out of your face and looks so effortless with a T-shirt and jeans.
Statement Headbands
Swap the obvious flower crown for a standout headband. Coachella calls for rhinestones that sparkle in the sun, metallic finishes and anything in a raffia material. Keep your hair down and let the dusty air give you texture only rivaled by a dip in the ocean or tie it up and slide on your accessory as a finishing touch.
'90s Hair Accessories
Coachella has a way of bringing back the best of the '90s. From space buns and butterfly clips to stretchy chokers and mini backpacks, stepping onto the festival grounds is like a trip back in time. I guess there's no better time to experiment with old favorites than when dancing in the desert to your favorite songs. This festival season, consider adding a scrunchie, claw clip, or barrette to your hairstyle for a 'Gram-worthy outfit.
Why blend in when you were meant to stand out? If you're already packing for festival season, shop for accessories that are just as fun and playful, but haven't been played out yet. You might even set the next big trend.