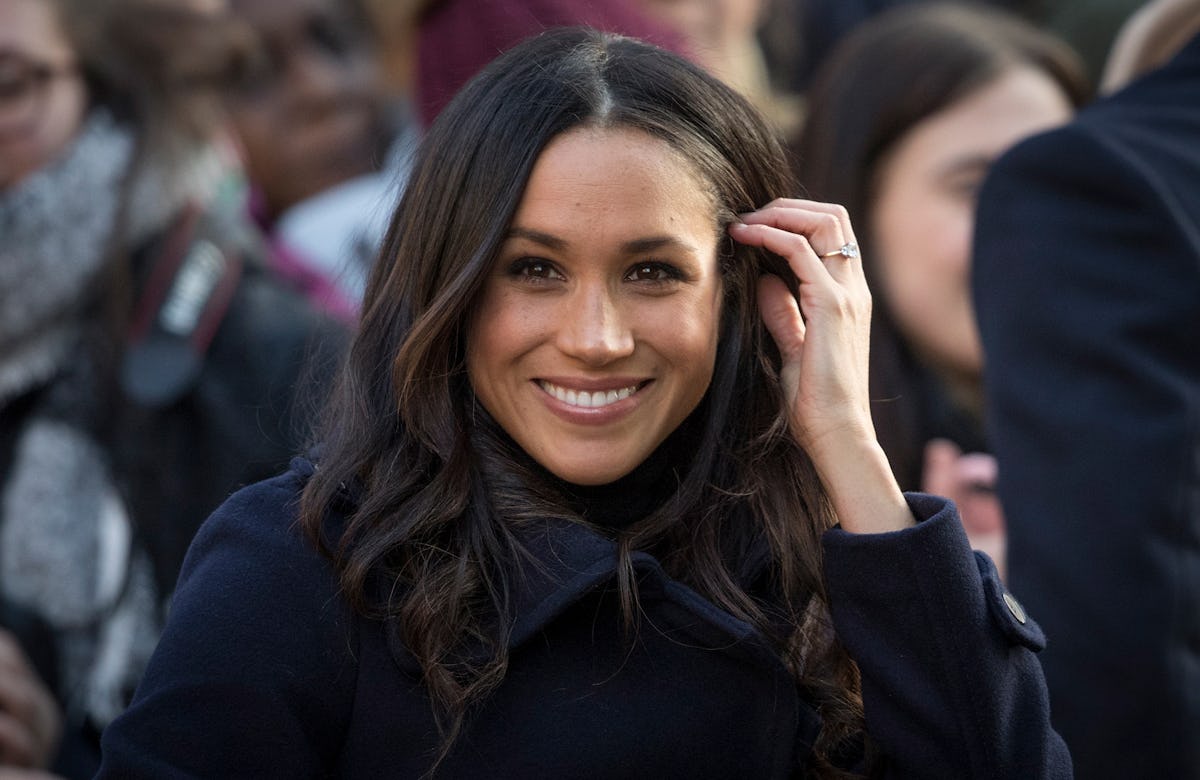 Meghan Markle's Natural Hair Will Inspire You On Hour Four Of The Dreaded Wash Day
Christopher Furlong/Getty Images Entertainment/Getty Images
I'm firmly in the camp of people excited about Meghan Markle and Prince Harry's upcoming wedding. Articles discussing potential dresses, flowers, and color schemes are my current not-so-guilty pleasure. Through all of the excitement, seeing a photo of young Meghan Markle's natural hair has to be my favorite moment yet. The soon-to-be royal has curls for days, and looks totally amazing in them.
Markle has been a mainstay in the media ever since it was announced that Prince Harry was lucky enough to date the philanthropic actress. I've got to admit, I definitely combed through her now-defunct blog, The TIG, when it was still alive and felt genuinely inspired. Ever since the official royal engagement was announced (and hearts broke all over the world that Prince Harry is officially off the market), coverage of the couple has been rampant. I try to stay away from reading unnecessary, invasive press about the pair, but seeing photos of Markle's natural hair made me feel that much more connected to the noble-in-waiting. Sometime in her past, Markle has definitely struggled through the hours-long process that is wash day.
Throwback photos of the actress rocking her natural curly texture appeared on the internet, and the public was genuinely surprised. Over the years, Markle has always been spotted rocking a shiny blowout, and this is the first time many have seen her sporting her naturally curly hair.
While I'm pumped to see all of the charities that Markle will champion, someone needs to start a petition to hear more about her hair routine. Does she relax her hair? Does she get blowouts or silk presses on her natural hair? How does she keep it looking so healthy and strong? If you're a bit confused, I'll break it down for you.
Markle is a mixed race woman of color, and from what we can see in early photos, her natural hair is quite thick and curly. If she relaxes her hair, that means that she uses a cream to chemically straighten it. The cream reduces the curl pattern by breaking down the hair strand and subsequently altering the texture. This is actually the same process I formerly used on my own hair.
I'm what the beauty community would call a "new natural". After relaxing my hair for over ten to fifteen years, I decided to give my hair a break. There's a multitude of reasons why women of color relax their hair: Society pressures, personal reasons, or they just find it more manageable. In the beginning, my choice was my mothers, who would relax my hair because of the time-consuming process of managing my natural hair. She was in grad school, taking care of two kids, and spending four or more hours on my hair just wasn't on the agenda. When I grew older, I went to a salon to get it professionally done. Relaxing was always a mainstay in my routine.
The reason why it would be so cool to sit down with Markle and talk hair shop is because it's so nuanced. Personally, I didn't feel the need to relax my hair from society's pressure to fit into Western ideals. It was just easier, and with a packed schedule of extracurricular activities and sports, it worked well for me. Just like going natural wasn't a stand against society: I had to for health reasons, and my hair just couldn't take the chemicals anymore.
It wasn't the act of going back natural that felt liberating; it was figuring out that I have a choice to wear my hair how I want. That topic would be so interesting to discuss with Markle. Since I work from home, I hardly touch my hair and prefer protective styles for less manipulation, which is what my hair thrives on (that and a good hot oil treatment.)
If I have a special event, I love a good blowout. Seeing the versatility in my hair, and the products different styles demand, is also a fun part of the process. Take Markle's holy grail product, for instance. When she rocks her blown-out texture, her go-to is Oribe's Dry Texturising Spray ($46, oribe.com). Any hair type can lament that nothing kills a beautiful blowout more than limp hair. This spray helps revive bounce, provides maximum volume, and creates sexy texture.
Whether she chooses to rock her natural hair in the comforts of her own home, or for the public to see, the beauty of Black Girl Magic is the choice to flaunt whatever you want. I'm dying to know though: Does the future royal wear a bonnet to bed, or does she sleep on a satin pillowcase?