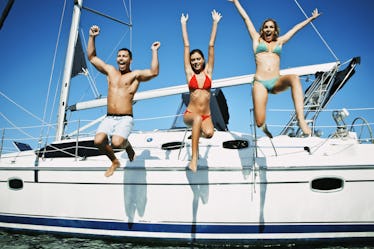 These "Floating Festivals" Bring The High Tides, Good Vibes, & Booze To Your Summer
Set sail on a yacht for an unforgettable experience this summer. From Croatia to Greece, you'll spend days island hopping in some of the most beautiful countries in the world. Yacht Week is a well-rounded adventure that gives you the opportunity to explore a new country, meet new people, unwind in the sea, and party all night long. You'll have endless opportunities to make the most of your time spent on and off the boat. These yacht week 2018 trips are the perfect way to enjoy the sun, sand, and sea this summer.
Some people travel to relax, some want to party, and some want to discover a new culture. Fortunately, Yacht week offers you the chance to do it all. You'll enjoy authentic cuisine that is prepared by chefs on board, you'll snorkel through crystal clear waters, you'll explore the ancient streets of a new country, and you'll dance on deck 'till dawn. Most tours include DJs, skippers, and tour managers. They handle all of the logistics, so you just need to focus on enjoying yourself.
You'll join the tour with fellow travelers from around the world, and by the end of it, you'll be the best of friends. Grab your best bikinis and sign up for Yacht week this summer.