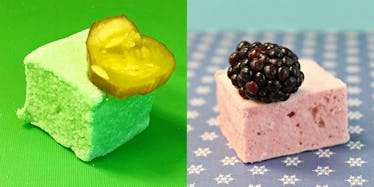 These 'Harry Potter'-Themed Marshmallows Will Put You In Your Fave Hogwarts House
Ever since I was a kid, I always thought I'd be fit for the Gryffindor house at Hogwarts. Maybe I wanted to hang with Harry and his friends, or maybe I just liked the color scheme (¯\_(ツ)_/¯). Regardless, I had a feeling that Gryffindor was the right choice for me. But after learning about XO Marshmallow's Harry Potter-themed flavors, I am convinced that I was correct. XO Marshmallow is a company that makes handcrafted 'mallows with unique flavors, and it just created four new selections that are inspired by each house at Hogwarts. Let's just say that the Gryffindor flavor is called Sriracha Honey, which means I belong there.
If you know me, you know I douse everything with Sriracha, honey, or a combination of the two. Maybe that's why I'm so drawn to the Gryffindor selection, but I digress. The other marshmallow flavors are representative of different Hogwarts houses, and maybe they'll help you decide which one you belong in. (I mean, let's face it: Sriracha Honey isn't for everyone — and neither is Gryffindor.) The other Harry Potter-inspired flavors include Turmeric Orange, Wicked Pickle (my second favorite), and Blackberry Brown Butter. In case you haven't already figured out which flavor represents which house, let me break it down for you.