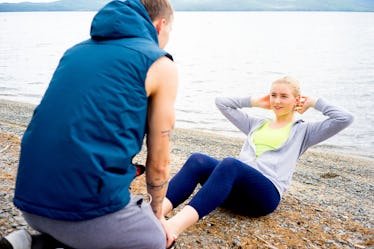 7 Reasons Why Working Out With Your Partner Is Motivational AF
For some of us, the dynamics of the gym work like this — you walk in, get on a machine, look around at other people, say you're going to do this many reps in your head, and then don't follow through. Believe it or not, this isn't the case when you bring bae along with you as a gym buddy. Working out with your partner is probably one of the most motivational things you can do if you're serious about getting a nice workout in a few times a week.
Seriously, it seems like something that would be a complete distraction, but that distraction actually works in your favor. You know how you stare around at other people because you're a little bit uneasy about trying something new and looking completely weird doing it? Well, imagine if a familiar face was looking right back at you and giving you a little wink or two of encouragement.
And those reps? Consider them done, because you have the perfect rallying partner right by your side. Casually working out with your partner also makes it less like a chore, because you're doing it together and incorporating it in your weekly meet-ups, dates, or hangout time. Whether you're at the gym or at a park, in more ways than one, your partner is the best motivation for you to bust a sweat.