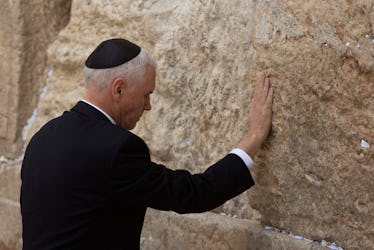 Women Reporters Covering Mike Pence Had To Deal With Major Sexism, & People Are Furious
Lior Mizrahi/Getty Images News/Getty Images
Of all the things to go international, sexism is not what we all were hoping for. The mistreatment of journalists extends much farther than the United States. Female journalists have come out swinging, following what was supposed to be a short, peaceful trip by VP Mike Pence to Israel. On Jan. 22, women reporters covering Mike Pence dealt with sexist treatment while covering the vice president's trip to Israel, and people are seriously angry.
During Vice President Pence's trip to Israel on Jan. 22 and 23, female journalists who were covering the VP's trip had to deal with treatment that many called sexist. On Jan. 22, a female reporter from Finland was reportedly asked to remove her bra during an "overly zealous and demeaning security check" entering the office of Israeli Prime Minister Benjamin Netanyahu, according to The Washington Post. When she refused, she was denied coverage of Pence's conference with Netanyahu. And the next day, during Pence's visit to the Western Wall, a group of female journalists discovered they had been segregated from the men, and were forced to attempt to cover Pence's visit from behind their male colleagues and on the other side of a fence.
Some of the journalists shared their experience on Twitter.
Some angrily aired out their experiences of the episode on social media, using the hashtag #PenceFence to describe their obstructed views at the event.
Journalist Tal Schneider tweeted:
Separation at the Western Wall. The women stuck in isolation and cannot photograph, work. Women journalists are second-class citizens. The American women photographers are frantically yelling at the representatives of the White House. #PenceFence.
She continued,
Follow me for a "clear" shot of the @VP visit to the western wall where if you are a male you can do your work and get the best front seat and if you are a second class citizen as I am, this is what we see & report
Some shared different reports, accounts and opinions of the visit.
Others shared outrage over the women who was reportedly told to remove her bra during a security check.
One journalist said the segregation was a traditional practice....
...But another disputed that.
And some pointed out that this could have major implications for these women's jobs and careers.
Access to the wall is traditionally divided by gender, with men on one side of a fence and women on the other, and is regulated by the Jewish Western Wall Heritage Foundation.
Though the foundation reportedly set up two separate platforms for male and female journalists to accommodate the separation, according to The Washington Post, the women had difficulty seeing over the platform and recording equipment of their male colleagues. During previous visits by President Trump and Barack Obama, male and female journalists were able to see into each other's sections, and though separated the female journalists were given a clear view of the action.
A lot of people were really disappointed that Pence didn't speak up.
Some were upset that Pence didn't stand up for the journalists, but, then again, the vice president has a terrible record of advocating for women's issues. We already knew that the anti-LGBTQ and anti-choice vice president refuses to eat alone with any woman other than his wife or that he wants to overturn Roe v. Wade. But in a professional setting, you would hope he would offer at least a little support in situations like this one.
Following heavy criticism of the journalists' treatment, Pence spokeswoman Alyssa Farah gave a statement, shared with The Washington Post, which said, "Every effort was made to accommodate both female and male journalists while observing the rules in place at the Western Wall."
The Jewish Western Wall Heritage Foundation also shared a statement on the matter, saying:
It was the same situation during President Trump's visit to the Western Wall in May 2017. We reject any attempt to divert the discussion from the important and moving visit of the U.S. Vice President and his wife at the Western Wall.
It's not the only controversy about America's relationship with Israel that's happened in recent months.
In December 2017, President Trump announced that his administration would move the U.S. embassy to Jerusalem. During his presidential campaign, he promised to move the U.S. embassy from Israel to Jerusalem, and in December he announced that he still intends to fulfill that promise, which many experts feared would disrupt peace efforts in the region.
Judging by the media attention this situation has garnered, the battle for equality is far from over. But maybe next time it'll be a little harder for Pence to ignore women's rights. At least, if it has literal bad optics like this.