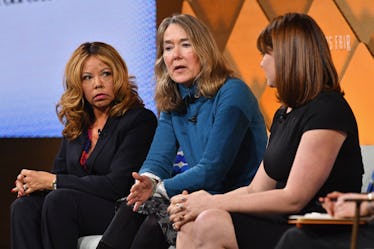 Women Now Make Up The Majority Of Democratic House Candidates In This Swing State
Dia Dipasupil/Getty Images Entertainment/Getty Images
On Tuesday, June 12, women in the Democratic party had a big night in Virginia. During the latest round of primaries held to decide which candidates will run for office during the 2018 midterm elections, five women in Virginia won Democratic nominations for House seats. Those victories now mean that women House candidates in Virginia now make up the majority of the Democrats who will compete to become Virginia representatives come November. Virginia has 11 congressional districts. Only one of them is currently represented by a woman, Republican Barbara Comstock, who serves the state's 10th congressional district.
A sixth female Democrat, Leslie Cockburn, a 65-year-old former journalist for Vanity Fair and CBS news show 60 Minutes, had previously won the Democratic nomination to compete for a House seat in Virginia's 5th congressional district, during a party convention in May.
In April, Cockburn wrote an essay about why she was running for office.
"I had never thought seriously about political office," she wrote in Vanity Fair, the publication for which she once served as a correspondent. "In fact, I had spent most of my 35 years as a journalist holding politicians accountable ... But now the Trump administration was busy shredding the institutions that permitted dissent. And once the damage was done, it would be hard to repair."
The wins of Democratic women on Tuesday fit a certain trend: an increase in female candidates during the age of President Donald Trump, which has coincided with the prominence of the #MeToo movement and a period during which Congress has sought to address sexual harassment policies within its halls.
Over 450 women filed to run for House seats alone, according to The New York Times. A number of those women have already lost in primaries. For example, Jennifer Wexton, who won the Democratic nomination to compete in Virginia's 10th Congressional district, defeated three other female Democrats during Tuesday's primary.
In addition, many more women are up against tough challenges in November. Vangie Williams won the Democratic nomination for Virginia's 1st congressional district on Tuesday. That district has been held for five consecutive terms by Republican incumbent Rob Wittman.
"While we are encouraged by the energy and the enthusiasm and the engagement of women, I think we also at the same time have to be cognizant of the fact that many of these women, even when they win their primary, will be running very tough races in November," Debbie Walsh, the director of the Center for American Women and Politics at Rutgers University, told The Times in May.
The bottom line, however, is that there is a major increase in female engagement nationwide, including within the Republican party. According to The Washington Post, over 140 Republican women will be running for congressional seats during 2018, and increase over the 107 women who ran in 2016.
Still, the number of women running within the Democratic party far outpaces those in the Republican party. Tuesday night's results in Virginia is indicative of that fact. Along with Leslie Cockburn, Vangie Williams, and Jennifer Wexton, the list of six Democratic women who will be running for Virginia House seats in November includes Abigail Spanberger, Elaine Luria, and Jennifer Lewis.
Spanberger is a former CIA operative who will compete in Virginia's 7th congressional district. Luria is an Army veteran who will compete in the 2nd congressional district. Meanwhile, Wexton is the lone candidate who will be competing in an all-women contest, against Rep. Comstock.
Come November, those candidates will be looking to turn the increase in female candidacy to an increase in female membership in Congress. Of the 535 seats in both the Senate and House of Representatives, 107 are held by women, which means female lawmakers make up exactly 20 percent of Congress. That number may well change, though, after the midterm elections.