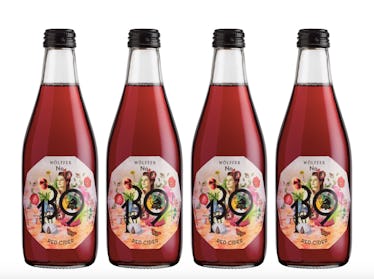 Sorry, PSL: Red Wine Cider Is Here To Become My New Go-To Drink This Fall
Courtesty of Wölffer Estate
When you think about fall, you probably think about Pumpkin Spice Lattes. I don't blame you, because I do the same thing. Pumpkin-flavored coffee has always been my go-to autumn sip — but this year, there's a new drink in town. It's called Red Cider, and it's basically the most epic fall drink ever created. I can't imagine October nights without a glass of red, and this bev' is about to take my autumn festivities to the next level. If you're intrigued (and thirsty), I'll tell you a little bit more about Wölffer Estate's Red Wine Cider.
Wölffer's No. 139 Red Cider will be released on Aug. 31 at the Hamptons-based winery and online, according to a Wölffer spokesperson. It'll also be available in NYC post-Labor Day at Whole Foods and Fairway. You might be familiar with the brand if you spent your summer sipping on rosé, because the company also created a delicious beverage called Finca Wölffer Rosé Wine. The vineyard even produces No. 139 Dry Rosé Cider, which is a total go-to in my book. (Seriously, I can't even tell you how many times I ordered it throughout the past few months.)
This isn't about rosé, though. This is about Red Cider, your new favorite drink of the season. (Again: I'm sorry, PSL.)
A Wölffer spokesperson sent Elite Daily information about the cider via email, and it sounds like the perfect boozy beverage to welcome fall with. Apparently, the Red Cider was made from dessert apples grown and handpicked from the DeFisher Fruit Farm in Rochester, New York. Winemaker Roman Roth sourced a variety of apples to make the cider just right, and included selections known for their "crisp, sweet and aromatic flavor profiles," per Wölffer. The final product is a cherry red-colored cider with the perfect flavor balance of tannins and fruit (yum). The company suggests pairing the drink with a cheese plate, s'mores by the campfire, or Mexican and Asian cuisines.
It sounds like I'm going to be drinking a lot of this throughout the upcoming fall months.
Again, the Red Cider will become available on Aug. 31, and you'll be able to get a pack of four bottles for only $16, per Delish. I don't know about you, but I am going to stock up for the chilly months ahead. If you plan on doing the same, make sure you're over 21 years old — and drink responsibly.
While you're waiting for your Red Cider to arrive, sip on the winery's No. 139 Dry Rosé Cider. As someone who's tried it multiple times, I can assure you that it's delicious. Plus, just because September is on its way doesn't mean the whether is going to get chilly over night. If it's still hot out by you, go ahead and prolong rosé season. I won't judge.
If you're totally over summer and are craving everything fall-related, it might be time for you to stop by Starbucks for a PSL. Even though Red Cider is stiff competition for the iconic autumn drink, I don't think anything will truly overcome it. Heck, I'm about to start my morning with a PSL and end my day with Red Cider. It's a win-win situation.