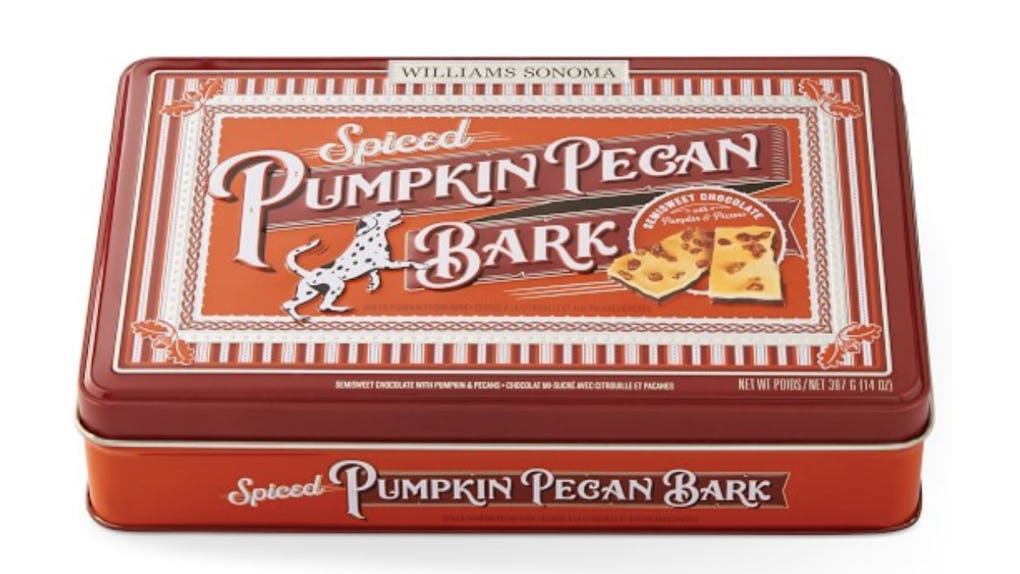 Williams-Sonoma
Williams-Sonoma's Spiced Pumpkin Pecan Bark Is A Seasonal Fall Snack You Don't Want To Miss
Move over, peppermint bark. There's a new kind of edible bark in town, and it might just replace your old holiday snacking habits. Williams-Sonoma's Spiced Pumpkin Pecan Bark is here to give your standard peppermint bark a run for its money. This is definitely a seasonal treat you don't want to miss out on.
Nothing says fall quite like pumpkin does. From pumpkins that adorn the steps of stoops and porches across the country to the actual delicious flavor of pumpkin, there really is nothing more appropriate to usher in the fall season. That's why Williams-Sonoma's Spiced Pumpkin Pecan Bark is going to be your weakness this October and November.
The delightfully tasty bark is sold in a 14-ounce metal tin at Williams-Sonoma stores nationwide. The delectable dessert is also available for purchase on the company's website. Right now, the Spiced Pumpkin Pecan Bark is on sale and comes with free shipping. If you move quickly, you can order a tin for yourself for the very affordable price of $19.99 directly from the Williams-Sonoma website. That's about $10 off the full price, so, all in all, it's not a bad deal for a limited edition snack like this.
The Spiced Pumpkin Pecan Bark is layered with all sorts of sweet and seasonal flavors. Allow me to break it down for you. The bottom of the bark is a rich layer of semisweet chocolate "infused with natural pumpkin spice oil," according to Williams-Sonoma. I would eat that all by itself. But wait, it gets better. The top layer of the Spiced Pumpkin Pecan Bark is made of white chocolate. Atop the white chocolate, you'll find sprinkles of ground nutmeg and bits of cinnamon-flavored pecans.
Now, I recognize that comparing Williams-Sonoma's Spiced Pumpkin Pecan Bark to peppermint bark may be an unpopular opinion. For this reason, I want you to know that I'm pro-peppermint bark. I always have been. It's a glorious thing any time chocolate and mint flavors are combined together. No disrespect. But, you should also know that I'm a sucker for anything pumpkin spice, especially when you throw pecans into the mix.
I'm from Florida, so I spent a lot of my childhood eating pecans in just about every flavor possible. I know it might sound weird, but it's a southern thing. Pecans covered in milk chocolate? Check. Pecans flavored with praline sugar? Check. Pecans sprinkled with sea salt? Check. But Williams-Sonoma's Spiced Pumpkin Pecan Bark is a first-of-its-kind experience for me, and I'm so here for it.
Williams-Sonoma's Spiced Pumpkin Pecan Bark is here for a good time, not a long time. While the Williams-Sonoma website doesn't explicitly say how long the mouthwatering bark will be around, all signs point to it being a limited run. You know, since it's pumpkin-flavored and all.
For me, it's a toss-up between peppermint bark and Spiced Pumpkin Pecan Bark. For now, I'm going to let the Spiced Pumpkin Pecan Bark steal the show and carry me through until the holiday season is in full swing. That's when I'll break out a box of Williams-Sonoma's Original Peppermint Bark. Until then, you can find me snacking on Spiced Pumpkin Pecan Bark.