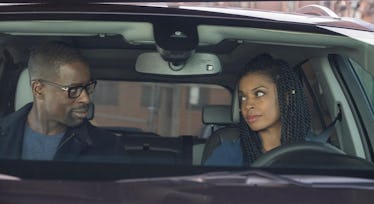 'This Is Us' Is Taking A Quick Break, Here's When Season 2 Returns
We've been blessed this week with two episodes of This Is Us, and while I'm particularly excited for the show to return to its normal time after that Super Bowl late-night struggle, we'll need to savor this double dose of TV. With the Olympics beginning on NBC this week, the network's new TV schedule is about to go into a bit of a disarray. Given how This Is Us is delving into the marrow of Jack's death this week and we're not sure where the story will go from here, I have to know: Will This Is Us air on Feb. 13?
The good news is that our tear ducts will have a nice break after this emotional week of episodes. Winter Olympic primetime coverage is currently scheduled for next Tuesday, Feb. 13, beginning at 8 p.m. ET and running until local news at 11:30 p.m. ET. Such is the story throughout the week, with all new episodes of primetime NBC shows delayed until the end of the Olympics. I think I've found another reason why I usually prefer the Summer Olympics: My TV shows are already in between seasons and not airing around the Games.
This Is Us will also be absent from the schedule on Feb. 20, the second Tuesday of the Olympics. Although it'll return on Feb. 27, this does mark the show rapidly approaching the end of Season 2. As seen with Season 1, This Is Us Season 2 will only produce 18 episodes, finishing much earlier than most primetime shows. The post-Super Bowl episode was Number 14, while the airing of Tuesday night's means that only three episodes remain. Season 1 ended in mid-March last year, and even with this upcoming break, it looks like Season 2 will also wrap up around then too.
Earlier this season, the show delayed its mid-season premiere by a week. An inside source at NBC claimed that the decision would permit more episodes to air before the Olympics began. Again, I'm not sure I like how easily the Winter Olympics can disrupt America's TV routines. It's February, guys. Our regularly scheduled programming is one of the few things we have to look forward to.
Of course, depending on how this Tuesday's episode ends, it's very likely that we'll need this long break to recover from emotional trauma. While the episode "The Car" will feature Rebecca and the kids planning Jack's funeral, it will also include flashbacks of the family's relationship with their car.
Mandy Moore has billed the episode as possibly sadder than "Super Bowl Sunday," telling Entertainment Weekly:
This next episode that airs tomorrow I think, dare I say, is even harder to watch than [the Super Bowl episode]. We were talking about it the other day, and the reality is setting in a week later. This man is gone. This family is forever changed. This man who had such a major influence and impact on every member of this family and served such a great purpose in everyone's life in such a major role. He was "Super Hero Dad," "Super Hero Father," and husband. The reality sinking in that this character is no longer on the show moving forward from this period in time is so sad. And I really think that Rebecca is grappling with how she's so used to being a unit and a twosome, and he is the super parent, and he can do no wrong. I think she just feels like she's a failure, and she doesn't know how to do it on her own.
I believe it's been Moore's Season 2 mission to see how much she can make us cry, so with these teaser in mind, I guess the This Is Us mini-hiatus can benefit us all.
This Is Us airs on Tuesday, Feb. 6, at 9 p.m. ET on NBC before taking a two-week break.