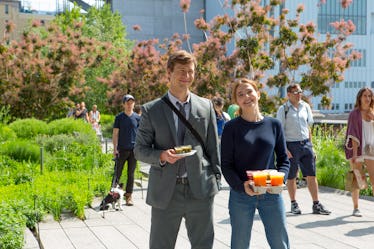 Fans Are Obsessed With Netflix's 'Set It Up' & They All Have One Major Question
K C Bailey / Netflix
If you haven't watched Set It Up, Netflix's newest romantic comedy, you need to run, not walk, to the nearest computer ASAP. The new movie will give you those classic rom-com vibes in a totally modernized package, so you're pretty much guaranteed to love it. Set It Up has only been on Netflix for less than a week, but in that short amount of time, fans have already become obsessed with it, and now, they have a very important question: Will there be a Set It Up sequel? Netflix hasn't made an announcement yet about a sequel, but I'm keeping my fingers crossed because I desperately need an update on Charlie and Harper's relationship.
Like all good romantic comedies, Set It Up contains not one, but two love stories. Zoey Deutch and Glen Powell star as Harper and Charlie, two assistants who work 24/7 to make their overbearing bosses happy. Harper and Charlie have no lives outside of work (if you're sleeping in the office, you know it's bad), but after meeting in the lobby of their building — and fighting over a Seamless delivery — they concoct a plan to get Kirsten and Rick (Lucy Liu and Taye Diggs) together. If their bosses have something to look forward to outside of work, Charlie and Harper will be able to have lives too, right?
As Harper manipulates Kirsten's schedule and Charlie forges notes on Rick's behalf to help the relationship along, the young assistants develop a friendship that quickly turns into something more. Oh, predictable rom-com plots, how I've missed you.
Once the two get some much-needed free time away from the office, their personal problems — and their obvious chemistry — become clearer. Charlie has a girlfriend who is so obviously not into him, and Harper has her own dreams of becoming a famous sports writer like Kirsten, but both seem hopelessly lost until they find each other. By the end of the movie, Harper helps Charlie understand that you don't need to sacrifice your values to find success, and Charlie helps Harper realize that she can do anything she wants — as long as she's brave enough to try. How can you not feel good after watching a story like that?
In less than a week, Set It Up has become a critical and fan-favorite (it's been hailed by critics as "the first great, glossy rom-com in years"), so it's no surprise that viewers want more. As soon as the movie hit Netflix, fans took to Twitter to campaign for Set It Up 2 and share their ideas about where the story could go from here.
The movie leaves Charlie and Harper's love story open-ended — they kiss once at the end and that's it! — so there's plenty of opportunity for a sequel, should Netflix decide to pursue one (please, please, do). Off the top of my head, I can think of at least eight different story lines a Set It Up sequel could pick up on, including Charlie and Harper's new jobs (and new bosses, presumably), ~weddign szn~ and all the post-reception pizzas they're about to eat, and Harper's desperate attempt to get a new roommate now that Becca is moving out to be a married person. Hey, Netflix, if you like these ideas, there are plenty more floating around my brain that I'm happy to chat with you about.
If Netflix ends up pursuing a sequel, the fans are right: We're going to need to find a way to include Lucy Liu and Taye Diggs again. These two were amazing as bad bosses, but I would love to see Kirsten, who was at least aware of how she treated Harper, find a happy ending. I can't say the same for grade-A garbage person Rick, but every story needs a villain, so why not add him into the mix, too.
Netflix, if you can make a Bright sequel, you can surely commit to a Set It Up sequel, right?