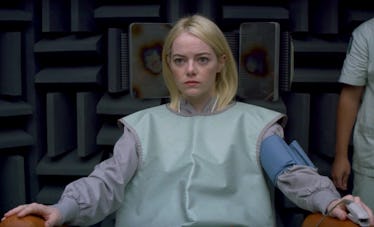 Here's Everything We Know About The Chance Of 'Maniac' Returning For Season 2
Netflix
Netflix's new mind-bending sci-fi series Maniac is taking viewers on a wild, hallucinogenic ride, but is the ride officially over once you reach the end of the newly released debut season, or will it be back to mess with our heads again? That is the question most viewers will probably have once they finish the ten episodes available on Netflix. So, will there be a Maniac Season 2? Although nothing has been officially announced yet, we have a pretty good idea about its prospects of continuing.
Unfortunately, it does not seem like there will be any more Maniac to follow-up these ten new episodes. When the series was first announced in 2016, Paramount Television only called the show a half-hour dark comedy series, but that description morphed once Netflix picked it up. Of course, now it is closer to a typical hour-long series (typically 40-45 minutes in length), and though it is still being billed as a dark comedy, it feels much more on the drama side. But the most notable new work that Netflix slapped onto the series description is "limited." Maniac premiered being touted as a miniseries or a limited series on Netflix, which basically means that fans should not be hopeful about a second season.
Now, that is not to say that another season of Maniac is impossible. Let's not forget what happened with Big Little Lies — the HBO hit was also billed as a limited series when it premiered in early 2017, but after an outpouring of critical and fan acclaim, the network, actors, and production team announced that it would return for a second season.
The same thing could happen with Maniac if it becomes a huge cultural phenomenon in the same vein as Big Little Lies, but it is more likely that the Netflix series was really only intended to have one season anyway. After all, Maniac is based on a Norwegian series of the same name that also only ran for one season of ten episodes. By all accounts, Netflix's Maniac was created with a one-time run of ten episodes always in mind, so although Big Little Lies did set a hopeful precedent, it was definitely more of an outlier than actually setting some sort of new norm for limited series.
Another thing that will likely make a second season unlikely: the schedules of the stars and director. This foray into television is rare for both Emma Stone and Jonah Hill, who are both better known for helming major movies. It is no secret that filming a season of television takes a lot of time, and both Stone and Hill have a lot of other projects that they are also juggling — the two stars will likely refocus on film projects now that Maniac has wrapped. And the same goes for Maniac's director Cary Fukunaga. The director literally just got selected to helm Daniel Craig's next James Bond movie, Bond 25, which is due out in 2020. He will definitely be focusing on that now.
So while you can really never say never with these things before an official announcement, Maniac fans should savor the first season as if it will be the only one, because it seems like that will be the case.