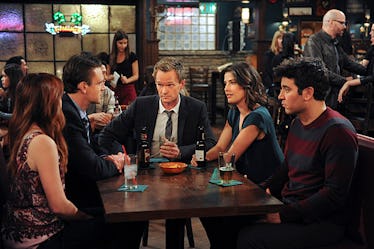 Neil Patrick Harris Opened Up About The Chance Of A 'HIMYM' Revival & It's Not Good
Ron P. Jaffe/CBS
Now that pretty much everything is getting the revival treatment — Roseanne, One Day At A Time, and American Idol are just three of the many shows that have been rebooted in 2018 — fans are curious whether one of their all-time favorites, How I Met Your Mother, will get a second chance. Network execs have been saying for years that they're interested in pursuing a spinoff series (or many spinoffs), but in the four years since the show ended, nothing concrete has come about. So, will there be a How I Met Your Mother reboot? After much speculation, Neil Patrick Harris is finally weighing in on the debate, and if Barney is to be trusted (which, you know, he isn't always), things aren't looking good for a possible reunion.
On Friday, March 23, Harris spoke to Variety about the second season of his Netflix show A Series of Unfortunate Events, but things quickly turned to the possibility of a How I Met Your Mother reboot. A quick note: If you've been desperately hoping for a reunion, you may want to quit reading here to remain in ignorant bliss. Unfortunately, Harris doesn't see a HIMYM revival happening any time soon, and the star believes that "there are better ideas" than bringing back the hit comedy:
Well, they tried a How I Met Your Father pilot on CBS and it didn't get picked up. But with How I Met Your Mother, we had a bonus ninth season and I appreciated that so much thought was given to the ending. It would seem strange to revisit it so soon ... I think there are better ideas.
The How I Met Your Father spinoff was actually the second attempt at continuing HIMYM's legacy: the first came in 2013, when CBS execs cast a female-centric remake called How I Met Your Dad starring Greta Gerwig, Nicholas D'Agosto, and Andrew Santino (um, in hindsight, this was an amazing cast). A pilot was shot, but CBS passed and the show faded away into the history of pilots that weren't picked up. In 2016, CBS attempted to make How I Met Your Father with two writers of This Is Us, but as This Is Us became more popular, the writers were promoted to co-showrunners and had to abandon the spinoff idea.
In August 2017, fans got their hopes up for a revival once more when Fox chairman Dana Walden told Deadline that execs were trying to reboot HIMYM a third time. Walden insisted that the new pilot was being created with totally different writers and will not carry over any ideas from the previous two attempts.
The studio will try [developing a spinoff] with different writers. They will be starting from scratch. It's one that's been slowly cooked. If it's the right idea the right execution, we'll take that.
But now that Harris has put in his two cents, I'm not so sure that a How I Met Your Mother reboot will happen after all. Harris is right: It's only been four years (almost to the day: HIMYM ended on March 31, 2014) since the show ended, so what's the rush to get a reboot on the air? If the revival of shows like Murphy Brown or Roseanne tells you anything, fans are totally fine waiting decades to see their favorite characters again. Plus, wouldn't it be better to see Ted's kids way off into the future as they try to explain how they met their own spouses?
For all I know, the most recent How I Met Your Mother reboot may end up sticking. But if it doesn't, it's not the end of the world: Without Harris and his original cast mates, any kind of revival just wouldn't be the same.