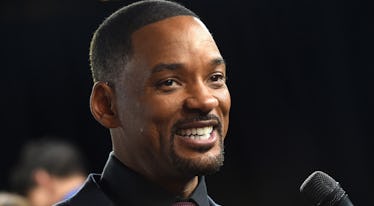 Will Smith Had The Most Hilarious Reaction To The Idea Of A 'Fresh Prince' Reboot
Kevin Winter/Getty Images
Yo homes, to Bel-Air... again! Will Smith may be one of the biggest movie stars in the world nowadays, but anyone who grew up in the early '90s still remembers him best as the colorfully dressed, streetwise teenager from The Fresh Prince of Bel-Air. Now that it seems like every single beloved show from the past couple of decades is getting a reboot, there have been a lot of people asking if there will be a Fresh Prince reboot, and now Will Smith is pitching his own idea for how the sitcom might come back.
Will Smith appeared on The Graham Norton Show recently, and addressed those rumors that have been swirling online about The Fresh Prince of Bel-Air coming back as a reboot or revival. According to Smith, the only way he could see himself involved in a new take on The Fresh Prince would be if he played the role of Uncle Phil, the well-off, often-annoyed caretaker that Will was sent off to live with. Smith told Norton that he just can't imagine playing his teenage character (also named Will) due to his age:
I'd have to be Uncle Phil in that one, like, I'm about to be 50, you know. It'd be 'Come on, Aunt Viv, I'm 50! I can't go out on my own?'
Honestly, Will Smith's idea would probably work, if he really meant it. James Avery — the actor who played Uncle Phil — sadly died in 2013, so it would only make sense that Will would take up the mantle as the new father figure in the Banks house. The idea also brought to mind a hilarious comparison that social media has made between Will Smith and Avery as Uncle Phil. Last year, a photo of Smith bungee-jumping next to a photo of James Avery went viral, with thousands of Twitter users commenting on how similarly Smith looked like Avery in the shot. Smith addressed the hilarious snapshot on The Graham Norton Show, saying it was all the blood rushing to his head during the dive that caused him to look like his former on-screen father figure.
Rumors of a Fresh Prince of Bel-Air revival have been popping up throughout the year, mostly because it feels like every other popular show from the '90s is getting a reboot right now. Fresh Prince's contemporaries Full House, Roseanne, Twin Peaks, and The X-Files have all returned to television recently, and now a Mad About You revival is in talks as well. It just feels like everything from that era of television is making a comeback right now, so all eyes are on The Fresh Prince, as one of the most iconic sitcoms of the early '90s, to see what might transpire.
The Fresh Prince cast also fanned the flames earlier this year with a reunion photo. Alfonso Ribeiro, who played Will's straight-laced cousin Carlton on the show, posted a pic of the whole main cast reunited over the summer. Will Smith also explained that reunion photo during his appearance on The Graham Norton Show, saying that they all got together to have lunch with the winner of a charity contest held by Karyn Parsons (Fresh Prince's Hilary Banks).
Even though the cast clearly still gets along and Will Smith is open to joking around about the possibility of a reboot, there are still no official plans for any sort of Fresh Prince of Bel-Air revival series at this point. Obviously, Will Smith himself is going to be the hardest to get on board if a reboot ever does surface — the A-lister is one of the top-earning actors in the world and is currently filming 2019's live-action Aladdin, playing the role of Genie. Still, fans can hold out hope that The Fresh Prince may come back into their lives again someday!