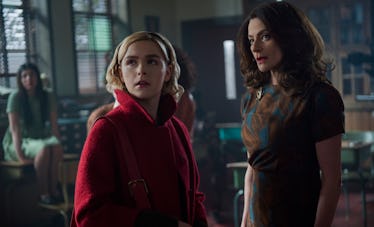 'Chilling Adventures Of Sabrina' Ended With So Many Cliffhangers, Fans Need Season 2 ASAP
Netflix
Chilling Adventures of Sabrina took viewers to hell and back with its horror-filled first season, but the final moments of its Season 1 finale have viewers asking more questions than ever. After revealing a ton of twists and cliffhangers at the end of Season 1, now pretty much everyone is wondering the same thing: Will there be a Chilling Adventures of Sabrina Season 2? Thankfully, fans can rest assured that they will get a resolution to all of Season 1's lingering questions soon enough.
Before its first season premiere, Chilling Adventures of Sabrina had already been picked up for two seasons by Netflix, so yes, Season 2 is on its way. And in even better news for fans eagerly awaiting more new episodes, Season 2 of Chilling Adventures of Sabrina is being filmed back-to-back with the show's first season, which is a good sign that the new season may actually be released sooner than fans might have assumed. The second season is reportedly expected to wrap filming in a couple of months, so we might even get to see Season 2 pop up on Netflix before next October. And that would definitely be a welcome treat, because the Season 1 finale of Chilling Adventures of Sabrina ended with a ton of cliffhangers.
Spoiler alert: The rest of this post will discuss plot details from the Season 1 finale of Chilling Adventures of Sabrina. Throughout the show's first season, Sabrina Spellman struggled to balance her emerging responsibilities as a witch with the friendships of her mortal life. But that whole dynamic changed in the final episode when Sabrina's friends all learn the truth about her powers, and Sabrina is manipulated into signing the Book of the Beast, binding her to the Dark Lord forever. Because of her new fealty to the Dark Lord, Sabrina decides it is best to cut her ties to the mortal world for good and fully embrace her new power as one of the Weird Sisters. So... is that it for Sabrina's mortal life, then? Will Season 2 be entirely set within the Acadamy of Unseen Arts?
That might be the biggest question going into Season 2, but it is hard to imagine that Chilling Adventures of Sabrina would cut out Harvey, Roz, and Susie altogether after developing them so much in Season 1. And especially since they all now know about the witching world, fans can expect Sabrina's three mortal friends to find out more about the supernatural elements of Greendale, and hopefully even get Sabrina to spend some time outside the Academy to keep her tied to her mortal side.
And Sabrina's name being added to the Book of the Beast is only one of the shocking cliffhangers that occurred in the final moments of Season 1. Miss Wardwell also revealed that her true name is Lilith, the biblical Mother of Demons and Satan's concubine, who is trying to manipulate Sabrina into taking her position so that she may ascend to become the Queen of Hell. Things are dicey for Hilda and Zelda as well: Hilda's new boyfriend Dr. Cerberus's eyes flash red when she isn't looking, and Zelda decides to steal and hide Father Blackwood's firstborn baby knowing that he may have killed the child if he found out she was a girl.
Clearly, there is a lot of ground for Season 2 of Chilling Adventures of Sabrina to cover, so hopefully it will be here soon!