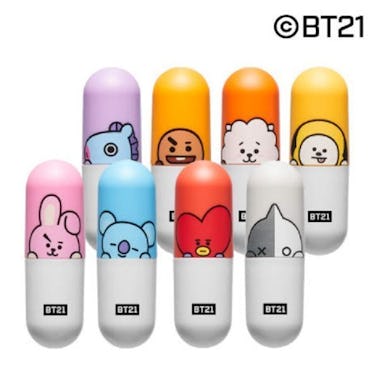 If You're Itching For The BTS x VT Cosmetics Collab, But You Live In The U.S., Here's What To Know
VT Cosmetics
On Friday, Oct. 12, K-Pop band BTS released their second makeup collaboration with Korean beauty brand VT Cosmetics, and naturally, K-Pop fans and beauty fanatics alike were unbelievably hype about the news. Now, not long after the initial release, U.S.-based BTS followers are dying to get the answer to one very important question: Will the BTS x VT Cosmetics Collection be available in the U.S.? The answer is, well, a little complicated.
Unfortunately, VT Cosmetics doesn't ship to the U.S. currently, and you likely won't find the collection at major beauty retailers like Sephora or Ulta (at least stateside). Of course, that's not to say the brand won't consider shipping to the U.S. in the future, should the collection have enough demand. However, here's where the answer get's a little complicated.
Basically, while the collection itself isn't officially sold in the U.S., some of the products included in the collection are beginning to pop up on third-party seller sites like eBay and Amazon.
Now, the full range of the BTS x VT collection launch contains everything from liquid eyeshadows to eyeshadow palettes to matte lipsticks to liquid and cushion compact foundations. In terms of the lippie lineup, there's something for everyone, from soft nudes to bright matte shades.
Out of the whole collection, the eight shades of the Lippie Stick bullets are available on eBay right now. But you have to act fast, because the lipsticks are only being sold by a few sellers, and once they're gone, well, they're gone.
However, as exciting as the opportunity for BTS lovers stateside to purchase some of the collection is, there are some downfalls to purchasing through a third-party site. For starters, sellers on these sites tend to raise the prices of the products that they're selling. For example, the Lippie Sticks are available on the VT Cosmetics site for 13,000 won, or about $12 USD each. However, on eBay, they're being sold for around $24 USD each.
In addition to paying more than the retail price for the collection, you may also have to wait quite a while before you actually receive your goodies. As of Monday, Oct. 22, the average estimated delivery date from the third-party sellers was between mid-November and mid-December, as all are shipping from Korea. But, if you're a diehard K-Pop fan, then higher retail costs and waiting a month or two to receive your products are small prices to pay for the chance to get your hands on makeup created by your favorite boy band.
If you have your heart set on purchasing the Lippie Sticks so you can at least snag something from the collection, then it's right there waiting for you on eBay! As for the other products from the collection, be sure to keep a close eye on the various third-party retailers like eBay and Amazon to find out when you can get your hands on the rest of the latest BTS x VT collection drop. (If you're interested, you can actually grab the first BTS x VT Cosmetics launch here.)