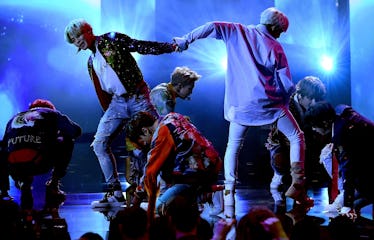 Here's How To Get Tickets To The BTS 'Love Yourself' Concert Film If You Live In The U.S.
Kevin Winter/Getty Images
Attention U.S.-based ARMYs: I have good news. Many of you might have been asking the question, "Will the BTS Love Yourself concert film come out in the U.S.?" and I'm here to deliver the joyful answer — yes! Yes, my precious ones! It will! Fans who have been desperate to attend a BTS concert but simply haven't had the finances, travel options, or fast-enough fingers to click "purchase tickets" before seats sold out are now afforded the opportunity to attend the next best thing. The BTS World Tour Love Yourself in Seoul concert film definitely is coming to a movie theater near you and will plop you down into the heart and center of the boys' first Love Yourself concert that took place in Seoul, South Korea last August.
Big Hit Entertainment announced the big news on Twitter to the resounding sound of millions of fans clicking "favorite." Now, tickets are on sale at LoveYourselfInSeoul.film, and are as easy as hitting the "Get Tickets" button. There, you'll be directed to a search feature where you can drop in your location to see which local theaters will be playing the film. It will also provide viewing times and theater addresses, too. You can also go through a similar process on the Fathom Events website, bless them.
According to PRNewswire, the film is screening in 90 countries including the U.S., and new theater locations are being added every day. So, if you log on and can't find a showing within a 50-mile radius of your city, don't panic. Keep hitting "refresh" and remember to stay calm.
Now, look at me. Look into my eyes. Here is the single most important thing to remember...
It is only playing for one day, everywhere. The magical date to mark on your calendar is Saturday, Jan. 26, and every other day before and after that is dead to you (that is, unless the geniuses over at Big Hit Entertainment decide to add more dates like they did with the boys' last movie, Burn The Stage).
I'll wait while you go circle Jan. 26 in red on your calendar.
Welcome back.
Here is what the BTS World Tour Love Yourself in Seoul website promises of the film:
Shot at the Olympic Stadium in Seoul during the BTS WORLD TOUR 'LOVE YOURSELF', an exclusive screening of the most sought-after concert of 2018 hits movie theaters worldwide for a one-day only event. This event will bring fans together to celebrate the seven members of the global boyband and their unprecedented international phenomenon.
Of course, this cinematic adventure comes right on the heels of BTS' other film, Burn The Stage: The Movie, which hit theaters in mid-November. And oh yeah, that was inspired by the group's pre-existing YouTube series of the same name. (Gee, famous much?) The movies differ in that Burn The Stage: The Movie is a true in-depth documentary which was filmed over the course of the band's 2017 Live Trilogy Episode III: The Wings Tour while Love Yourself in Seoul documents one concert, highlighting their amazing live performances.
All of this to say — you better snag your ticket ASAP. Many of us will never be able to see a BTS concert live or go to Seoul, let alone do both at the same time.
Godspeed.