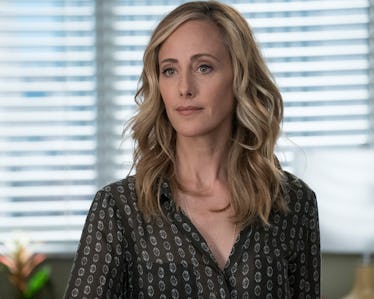 This Fan-Favorite 'Grey's Anatomy' Character Will Officially Return As A Series Regular
ABC/Richard Cartwright
Welcome back to Grey Sloan Memorial Hospital, Dr. Teddy Altman. After popping up at the beginning of Grey's Anatomy Season 14, Teddy made an appearance in the season finale and revealed a shocking surprise: She's pregnant, potentially with Owen Hunt's baby. Will Teddy be on Grey's Anatomy Season 15? ABC is bringing Kim Raver back as a series regular, so expect to see plenty of the cardio surgeon when Grey's returns in September.
During the Season 14 finale, it became clear that Teddy was going to be part of Season 15, but not to what extent. At the beginning of "All of Me," Teddy arrives at the hospital looking for a job, and she runs in to a very frantic Dr. Bailey, who is struggling to balance everything now that she's Chief of Surgery. After the two bond over missing Alex and Jo's wedding and help their patient (the mother of the bride at another wedding), Bailey asks Teddy to step in as interim Chief, and Teddy accepts. OK, so we know Teddy is going to be around for at least part of Season 15. But then, in the episode's final minutes, Teddy dropped another bomb when she reveals to their patient that she's pregnant. Cut to black. Who's the father?!
Teddy never revealed who the father is, so I have to assume that this story line will be a major part of Season 15. Teddy and Owen shared a passionate few days together (it was a long time coming for these two) earlier in Season 14, so it's definitely possible that the baby is his. If so, the big baby reveal comes right as he's realizing he wants to get back together with Amelia, which spells bad news for pretty much everyone involved. The Grey's Anatomy writers are known for wreaking as much havoc as possible in their characters' lives, and it seems like Teddy's baby is exactly how they've chosen to do it.
Agent of chaos or not, Raver is ecstatic to be back with her Grey's Anatomy family. She said in a statement:
I am thrilled to reprise the role of Dr. Teddy Altman as a regular. Returning to Shondaland with the incredibly talented Krista Vernoff, Ellen Pompeo and the amazing cast is heavenly. I have a special place in my heart for Teddy and feel very lucky to have the opportunity to continue her story.
Raver was originally on Grey's Anatomy from Season 6 to Season 8, when her character left Seattle to join the military's MEDCOM unit. Raver has been on plenty of shows since, but she has been open about wanting to jump back into Grey's, so I'm psyched that she finally got the chance.
In November 2017, Raver told TVLine that Grey's Anatomy feels like "home:"
I love being part of this company. I love working with Shonda Rhimes. I love working with the cast. Literally for me it's definitely home. I feel fortunate enough to be able to go off and join other companies, but every time I come back to Grey's it's really like being home.
Even though Teddy was only with the show for three seasons, her no-nonsense attitude made her a fan-favorite, and naturally, many fans are super excited to have her back.
But not everyone is so excited. Teddy's arrival comes just as the show is saying goodbye to two major characters who have been around for a decade, April and Arizona, and some fans feel that Teddy just isn't an adequate replacement for these two.
Of course, Teddy's return doesn't make up for April and Arizona's exit, but I'm excited to see how she and her baby will blow up the hospital's currently very calm dynamic. This is Grey's Anatomy, remember? Things can't be too happy for long.
Grey's Anatomy Season 15 will premiere in September on ABC.