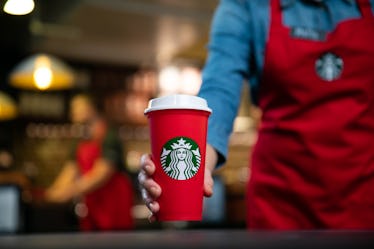 If You Didn't Get A Reusable Red Cup From Starbucks, You May Be Out Of Luck
Starbucks
A few weeks ago, Starbucks passed out free reusable cups to customers. The complimentary cups were given to customers who ordered a holiday drink on Friday, Nov. 2. It was all an effort to kick off the launch of Starbucks' 2018 holiday drinks and cups. After the Nov. 2 promotion, the cups went on sale for $2.50. Apparently, people really love Starbucks cups, because locations across the country sold out quickly. If you didn't get a red cup, you're probably wondering, "Will Starbucks' reusable red cups be restocked?" After all, the cups save you money on certain coffee purchases. This makes the item the ideal holiday gift. Here is what you need to know.
The short answer is no. I know, it's a total bummer for anyone who did not get a cup. Why is this such a big deal? Because you can bring your reusable cup back to Starbucks and get 50 cents off of your next grande holiday drink purchase after 2 p.m. The deal runs through Jan. 7. If you visit Starbucks with any regularity as I do, you know that 50-cent savings adds up over time.
"We were thrilled to see such an enthusiastic response to our limited-edition reusable red holiday cup, which is now sold out. We look forward to working with our customers to help reduce our collective impact on the environment, and encourage our customers to bring in their reusable red cups to receive 50 cents off their grande (16 oz) holiday beverage order through Jan. 7," a Starbucks spokesman told Elite Daily.
If you're unfamiliar with the hubbub surrounding these coveted cups, allow me to fill you in. Starbucks customers were outraged when the store sold out of free reusable red cups during its 2018 holiday promotion on Friday, Nov. 2. Maybe you were one of them. After customer complaints started rolling in on Twitter and other social media sites, Starbucks decided to bring back the reusable red cups. This time, customers had to pay $2.50 for a reusable red cup. Previously, Starbucks gave the cups out to customers who purchased a holiday beverage on Nov. 2. This seemed to smooth things over for the most part. That is until Starbucks sold out of the reusable cups for the second time, according to the coffee company. To be fair, Starbucks did indicate that complimentary cups would only be passed out while supplies last during the promotion.
I get it. It's not the news you were hoping for. Same here. While I did get a cup, I was hoping to purchase a few more as holiday gifts for my friends and family. My bank account smiles any time I have the opportunity to save money on my Starbucks purchases. Hopefully, Starbucks will offer this same promotion for the 2019 holiday season. If I could make just one suggestion, it would be to have extra reusable red cups made. That way, everyone can get discounted holiday drinks at Starbucks for an extra cheerful sip.