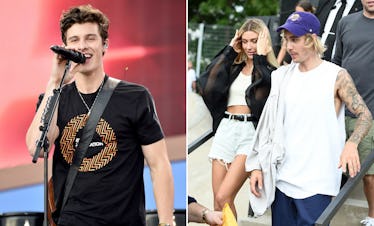 Shawn Mendes Just Revealed If He'd Ever Sing At Justin Bieber & Hailey Baldwin's Wedding
Theo Wargo/Getty Images Entertainment/Getty Images
You guys, can we please just let Shawn Mendes live? The poor guy has been living in the shadow of Justin Bieber and Hailey Baldwin's relationship ever since they first went public. If you recall, Mendes was Baldwin's date at the 2018 Met Gala and just a few short weeks later she was making out with Bieber in New York City. Mendes fans had a little bit of metaphorical whiplash considering they were sure she was smitten with their main man. Now, people are asking the question: Will Shawn Mendes sing at Justin Bieber and Hailey Baldwin's wedding? Come on, guys! No! I mean, probably no. I can't say for certain, but that would be awkward AF, wouldn't it? Despite how uncomfortable the idea makes me, Mendes remained a total gentleman when he was approached about the possibility in an interview.
On Monday, Oct. 1, Mendes walked a red carpet where a reporter felt it was time to yet again bring up Bieber and Baldwin's wedding. She asked Mendes point-blank: "I know you are also BFFs with Hailey Baldwin. Are you invited to her and Justin Bieber's wedding? Are you singing at the wedding?" Like, can we not right now?
Despite the awkward question, Mendes took it in stride. He responded, "Am I going to sing at the wedding? I, of course, I would sing." He added, "I have not been invited yet but I'm sure something will happen soon."
Woof.
You can watch his response in the first 10 seconds of this clip:
What class! What grace! What kindness!
It would be totally understandable if he responded with something like, "I am tired of being asked about someone else's relationship and wedding, especially because the press and media are just trying to get me to say something mean or sensitive because there were rumors suggesting Hailey and I were dating." Instead, he's always been nothing but supportive and pleasant about the whole ordeal. Bless him.
Mendes said on the Australian show The Project he texted Baldwin right away after she and Bieber announced their engagement. "I texted Hailey the day of, and I said congrats," he said. "That's what it is. I think everybody wants there to be more — there's not."
In a recent interview with Variety, Mendes stated he is totally single, though he admitted he wonders about having a relationship every now and then. Hey, who doesn't? He said, "I'm not currently dating anyone, but it's not because I don't have time... It hasn't stumbled across me, and I'm not chasing it." Mendes added,
Of course, seeing all those other artists and people in relationships, you think, 'Maybe it would be nice; who would be great for me?' And that's when you realize: 'This is wrong. Let it be. I'm not supposed to be with anyone right now.'
Let's leave this magnificent angelic man be, you guys.
Baldwin is with Bieber. Shawn Mendes is the nicest person alive. That's it. There's nothing else to see here, folks. Everyone take a lap.