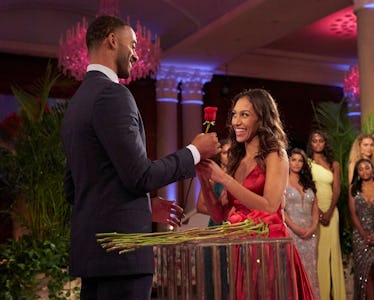 Serena P.'s "Women Tell All" Hot Seat Could Be A Hint She's The Next Bachelorette
ABC/Craig Sjodin
Going on The Bachelor basically means you're gambling on the chance of potential fame at the risk of either finding your soulmate (not super likely) or getting your heart broken (much more likely). While normally it's the contestants who tend to fall hard for the lead only to be sent home sad and single, Season 25 changed things up when one contestant sent herself home while Matt was seemingly still super into her. It was the exact kind of difficult yet necessary decision a Bachelor Nation lead needs to make, leading some fans to wonder: Will Serena Pitt be the next Bachelorette? She's been demonstrating some serious leading-lady potential.
From the start of the season, Serena P. was clearly the contestant to keep your eye on. The 22-year-old Canadian publicist snagged not one, but two 1-on-1 dates throughout the season. She and Matt did "romantic" things like ride horses through the woods and practice tantric yoga together.
But after introducing Matt to her family during hometowns week, Serena realized she had serious doubts. She ultimately decided to eliminate herself before the next rose ceremony, telling Matt, "I think it just comes down to the fact that I don't think you're my person." In a big role-reversal, Serena even walked Matt out after their breakup, as though he was the one being eliminated (major lead energy).
Serena P. has proven herself to be a decisive, genuine contestant who isn't afraid to make tough decisions in her search for love. All those qualities could make her a great lead for the next Bachelorette season. And if her appearance on the March 1 "Women Tell All" special is any indication, she seems ready to date again.
When Chris Harrison asked Serena P. if she felt conflicted about her decision to self-eliminate from Matt's season, she responded, "As much as it was really hard, I would've been doing him a disservice by staying. Because as much as I deserve to be 100% sure about someone, I wasn't 100% sure I could give him that." She added, "I just hope he's happy."
While nothing is set in stone yet, the moment seemed like a perfect set-up for her to give out some roses of her own.
Season 25 of The Bachelor continues Mondays at 8 p.m. ET on ABC.