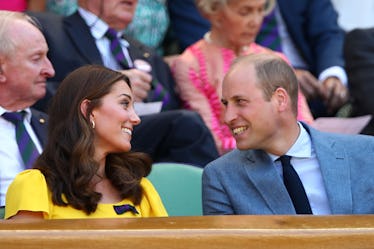 Here Are The Chances Prince William & Kate Middleton Will Have A Fourth Child
Clive Brunskill/Getty Images Entertainment/Getty Images
Now that Prince Harry and Meghan Markle are getting ready to welcome their first royal baby next Spring, what are the chances that the Duke and Duchess of Cambridge will decide to go from a family of five to a family of six sometime before the end of next year? It may sound like a longshot, but apparently bookies are already taking bets! So will Prince William and Kate Middleton have another baby? According to Ladbrokes, the odds of the couple announcing that they are expecting Baby #4 by the end of 2019 stand at 7-2.
"Baby mania is in full swing in the Royal Family right now," Alex Apati of Ladbrokes told Express. "So it's no surprise to see odds on a fourth Will and Kate baby so short."
Of course, just because people are betting on baby number four doesn't necessarily mean one is in the cards. So let's dig a little deeper.
As we all know, the royal couple already has three children: Prince George, who was born first in July 2013; Princess Charlotte, born in May 2015, and Prince Louis who rounded out the family in April 2018. Three kids under the age of six is a lot, you guys. Can you even imagine how hard it would be to juggle four?
Still, the Queen has four kids — she gave birth to Prince Charles in 1948, Princess Anne in 1950, Prince Andrew in 1960, and Prince Edward in 1964 — so maybe it's the Duke and Duchess of Cambridge's dream to follow suit. Plus, having four is probably easier than having three, because then one of them doesn't get left out when the fam takes a trip to Disney World and the kids pair up to ride Splash Mountain, like Prince William did with his own brother Prince Harry when Princess Diana took them there back in 1993.
On the other hand, let's not forget that Middleton suffered from hyperemesis gravidarum — a condition that is characterized by severe nausea, vomiting, weight loss, and dehydration — all three times she was pregnant, and that is no freaking picnic. Would she really want to go down that road again so soon after having Prince Louis?
I mean, look, I totally get the whole baby-fever thing. You've got Meghan Markle, who is gorgeously bumpin' along, and Pippa Middleton and James Matthews, whose new baby boy was born on Oct. 15, the same day the Duke and Duchess of Sussex announced their pregnancy. I guess it's only fitting that Prince William would feel left out, you know? After all, he and Middleton had the baby spotlight to themselves for so, so long. And we all know the best way to upstage all these other royal rookie procreators is by announcing that there's going be a Baby #4 in the house of Cambridge.
Plus, there's the fact that Middleton does tend to jump back into royal action rather quickly post-birth. Check her out at Prince Louis' christening, which took place in July just a few months after the little guy was born.
I mean, if I could jump back into my professional duties as flawlessly as Kate did just 10 weeks after having a baby, I'd probably be OK with having four kids, too.