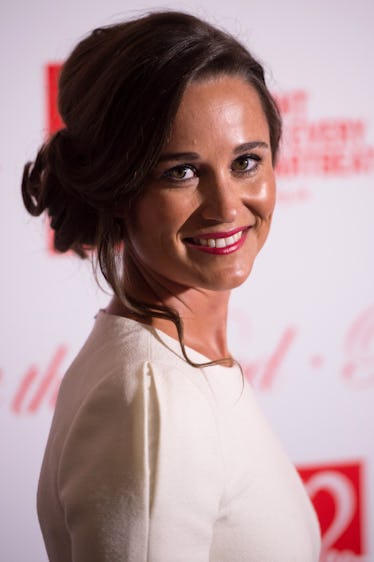 Here Are The Chances Pippa Middleton Will Be At Princess Eugenie's Wedding
Ian Gavan/Getty Images Entertainment/Getty Images
Princess Eugenie's wedding is going to be one of the biggest royal events of the year. And a slew of familiar faces and celebrities will be in attendance on the big day. But will Pippa Middleton be at Princess Eugenie's wedding? Well, I wouldn't bet on it if I were you. There's one important thing that may keep Middleton from attending the wedding ceremony on Friday, Oct. 12: her due date.
As many of you know, Middleton is expecting her first child at the moment, and she's reportedly due very, very soon. Middleton's reported due date is right around the time Princess Eugenie will be getting married on Friday, Oct. 12. So, that means that Middleton might be too far along in her pregnancy to attend the special day. Since Middleton's exact due date is not publicly known, it's possible that she's still a few weeks away from giving birth. And in that case, she could be available to attend Princess Eugenie's wedding.
If Middleton is due to give birth on or around Oct. 12, then there's some question about whether her sister Kate, Duchess of Cambridge, will attend Princess Eugenie's wedding. Middleton's child will be the Duchess' first niece or nephew and there's no doubt that Kate would want to be there for her sister. But at the same time, she'll definitely want to be in attendance for her cousin-in-law Princess Eugenie's wedding. So, she's in a tough spot, for sure.
According to Express, Kate is an undecided guest for Princess Eugenie's wedding simply because her sister is so close to giving birth. I guess that means fans will have to wait and see if Kate shows up as well. There are so many mysteries surrounding this wedding! All will be revealed soon enough, though.
Whatever happens, the wedding must go on! And all the best bits of it will air on TLC early Friday morning. So, if you're excited to wake up before the sun comes up and catch Princess Eugenie's wedding live, then TLC is the network for you.
If you're curious about what will go down during the ceremony, the answer is: a lot! Not only will Princess Eugenie and her longtime love Jack Brooksbank exchange vows, but all your royal favorites will be there — Prince Harry, Prince William, Meghan Markle, Prince Charles, and Queen Elizabeth. And, of course, Duchess Kate will likely be there if her sister doesn't give birth!
In addition to all those familiar royal faces, you'll also get a glimpse of Prince George and Princess Charlotte. According to Harper's Bazaar, Princess Eugenie has selected Prince George to be a page boy and Princess Charlotte to be a flower girl. Princess Charlotte will reportedly lead all the flower girls during the wedding ceremony. A big job for such a little lady! But she's been in weddings before, so she's up for it. Actually, George and Charlotte were part of their aunt's wedding. It would be unfortunate if Middleton couldn't make it to Princess Eugenie's wedding to see her niece and nephew do the same for their big cousin Princess Eugenie.