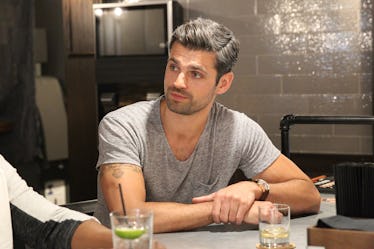 Peter Kraus Reveals Whether Or Not He'd Ever Join 'Bachelor In Paradise' – EXCLUSIVE
After finishing as runner-up on Rachel Lindsay's season of The Bachelorette, Peter Kraus has become the one who got away for the entirety of Bachelor Nation. Fans were totally convinced that he would be the next Bachelor, but it wasn't meant to be, hence why I spend my Mondays internally replaying Peter's declaration of love for Rachel while watching current Bachelor Arie Luyendyk Jr.'s attempts at conversation. Luckily, no one on The Bachelorette disappears for good nowadays, so we have to ask: will Peter be on Bachelor in Paradise this year? Elite Daily spoke with the 32-year-old about his plans.
When it comes to spending the summer in the Mexican capital of awkward hookups and unseasonable roses, Peter reveals,
Things like Paradise, no, not really my thing. As far as becoming the Bachelor at some point, [it's] still not part of the life that I have right now, but if it were offered in the future, I'd think about it.
Hear that, America? There's still hope of a Bachelor season starring Peter! Plus, let's face it: A Paradise season with Peter would probably turn into an ugly mess if all of the women wanted to go after him. Given the casting trends of the most recent Paradise groups, the majority of the upcoming season's men will likely be from the new Bachelorette's season later this year.
Although Bachelor franchise creator Mike Fleiss originally announced him as a cast member of the upcoming Bachelor Winter Games, Peter recently told Us Weekly why the opportunity just didn't work out for him. However, he said in the interview that he was never actually asked to join the cast. Hmm, OK, somebody at ABC had their wires crossed:
Reality TV is not something that I want to pursue at this time...I'm very happy and in a great place and it just didn't seem like a good fit for now. I'm probably happy that I didn't get on, but they just didn't ask. They didn't pick me, I should say.
While speaking to Elite Daily, Peter furthered his disconnection from Winter Games:
I know very little about Winter Games. I know a couple of the guys who are on it: Dean and Ben, Josiah and Eric...I haven't really talked to them much other than they said they had a really fun time and they enjoyed it...will there be a Summer Olympics version? Because I'd be a lot better at that than winter stuff… I'll go run track and throw spears and things. If [ABC] did a Summer Olympics, I'd definitely do that. I would love to do that.
So Peter's into the idea of running around in the hot, sticky weather, and I am a fan of watching him do that. Still, it would have been great to see him with the rest of the Winter Games competitors in their matching uniforms on the four-part show's Feb. 13 premiere at 8 p.m. ET on ABC.
Although the Wisconsin native is reluctant to return to the world of reality TV for now, Peter has kept himself busy with new business ventures. His latest project is with the app Hive Social, which connects users based on their mutual interests, as he explains:
The idea behind it is you have common interests with people here in town but you don't know those people, so what we'd like to do is get you to go onto this app and put into your search profile the interests that you have and that will go on one common feed and you'll find all the people with those same interests.
While I respect Peter's aversion to Paradise, you can start predicting which women will be on this summer's season by watching Season 22 of The Bachelor on Mondays at 8 p.m. ET on ABC.