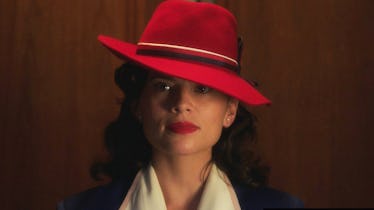 Hayley Atwell Is Giving Fans Hope That Peggy Carter Will Return For 'Avengers 4'
ABC
Avengers: Infinity War has been the Marvel Cinematic Universe's first real venture into keeping plot details under wraps. Other than the main cast being so large that there are 22 character portraits, fans actually know very little about either Infinity War or the follow-up film, the still-untitled Avengers 4. Marvel hasn't even revealed which secondary characters might be in the second half of the film. For instance, will Peggy Carter be in Avengers 4?
For some fans, that might seem like a crazy question. How can Peggy be in the sequel to Infinity War, when she died in Captain America: Civil War? For those who haven't had their spoiler-scenting noses to the ground, you might not have heard the rampant speculation that Avengers 4 is a time-travel film. Rumor has it the events of Infinity War lead to a certain character going back through time, which is why we don't have a title for the next Avengers movie yet because it would spoil the ending of this one.
Who exactly is going back through time is up for debate, and how much time-traveling is happening has not been determined. But if there's one love story that time travel already disrupted, it's that of Cap and Peggy.
Speaking to Parade Magazine, Hayley Atwell certainly wasn't ruling out a chance of her return to the franchise:
Because it's a genre-specific superhero piece, I'm sure anything could happen. It's such a huge world. I do think there's something in the completion of the fact that they're doing their back-to-back Avengers at the moment, which will complete an era, so I can't see how that would be. But that's what's remarkable about Marvel is they keep going. Each film tends to further what they're doing, so I wouldn't rule it out.
So, how could Peggy be in Avengers 4? So far, the theories rest on a photo posted by TMZ of Chris Evans dressed in his original Captain America outfit from the first Avengers film, circa 2012, the one he wore right after being thawed out. This spawned the theories that someone, most likely Iron Man, would be going back in time to prevent whatever massive tragedy happens in Infinity War. The theory is this tragedy may line up with Tony Stark's vision from Avengers: Age of Ultron. He would feel so guilty for allowing it to come to pass, the only way he could stop it was to make a time machine with help from Ant-Man (who is not in Infinity War, but *is* in Avengers 4) or maybe the Time Stone, and change the past.
How could he change the past? By putting Steve Rogers back where he belongs in his own time — in the 1940s. Rogers would then get to marry Peggy and live happily ever after. This also allows actor Chris Evans to bow out from the series altogether without having to kill him off.
But for now, Atwell is working on her new series, the BBC adaptation of Howard's End, a period piece set in the early 1900s that recently premiered on Starz. In describing the series and her character to Parade, she said:
[W]hat's brilliant is that it's a great study in the period of the day and how we reflect on our circumstances then and our circumstances now do very much dictate choices that we make. It's finding a way to make life work, based on what life is presenting to you. I think that's a truism of today as well.
Howard's End is currently airing on Starz on Sundays at 9 p.m. ET. Avengers: Infinity War premieres April 27, 2018. Avengers 4 arrives on May 3, 2019.