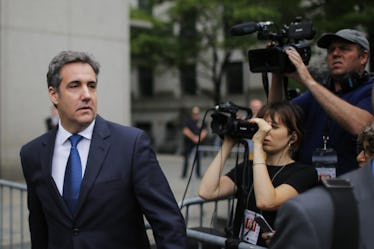 It's Reportedly Looking Likely That Trump Lawyer Michael Cohen Will Work With Investigators
Eduardo Munoz Alvarez/Getty Images News/Getty Images
It's been a minute since I've heard about Michael Cohen. The former personal attorney for President Donald Trump is in the news again because Cohen's attorneys reportedly they will no longer represent him in an ongoing probe by Manhattan prosecutors. Will Michael Cohen flip and cooperate with prosecutors? It's reportedly looking likely, according to a new report by ABC News's George Stephanopoulos.
Cohen has been represented by Stephen Ryan and Todd Harrison of the Washington and New York firm, McDermott, Will & Emery LLP, per ABC News, but an unnamed source claimed to the outlet that the firm reportedly didn't plan to continue representing Cohen imminently. It's unclear whether Cohen will seek a replacement firm. Elite Daily reached out to Cohen's attorneys for comment on their rumored split, as well as reports that Cohen will reportedly cooperate with federal investigators, but did not hear back before publication time.
Cohen surfaced in the media in January, when it was revealed that he arranged a "hush money" payment between the president and adult film actress Stormy Daniels. Trump has repeatedly denied having an affair with Daniels, but a financial disclosure document revealed that he did reimburse Cohen for the payment. Cohen has since become the focus of a probe by the U.S. Attorney's Office for the Southern District of New York for a number of possible crimes, including potential bank fraud, and campaign finance violations. Cohen's office was raided in April by federal agents, drawing ire from Trump, who tweeted at the time that "attorney-client privilege is dead." Elite Daily previously reached out to Cohen's attorney about the probe, but did not hear back.
It has been speculated ever since the office raid that Cohen could be a potentially desirable witness for Special Counsel Robert Mueller's investigation into whether the Trump campaign colluded with Russia to influence the 2016 Presidential Election. Former federal prosecutor Renato Mariotti outlined on Twitter that even if Cohen is only cooperating with federal prosecutors in Manhattan — not Mueller's team — whatever information he divulges could potentially be given to Mueller, but it's sticky. Mariotti tweeted,
Cooperation deals typically require the cooperator to provide all information about any criminal activity he knows about. Prosecutors then share that info with other jurisdictions. Assuming that Cohen has information that will be useful to law enforcement—information that will lead to charges against others—he will get a deal. But one unusual complication is that Cohen is an attorney and some information he has may be about former clients.
Attorney-client privilege is still very much alive, despite what Trump tweeted, and certain information divulged by Cohen might not be permissible in court if it falls under that protection. Mariotti explained that while it's too early to tell what Cohen's plan might be, if he did end up cooperating with Manhattan prosecutors, it would be dealing a blow to Trump.
CNN's Gloria Borger, a senior political analyst with the network, reported Wednesday, June 13, that it's possible that Cohen simply wants to lock down a firm that has more experience in the Southern District of New York, where he will likely face criminal charges.
Cohen has made a name for himself as something of a "fixer" for Trump over the years, and more information about the nature of his approach to the role has emerged since April. NPR published leaked audio on May 31 of Cohen apparently threatening a journalist with legal action — his bullish demeanor on full display. Elite Daily reached out to Cohen's attorney at the time for comment on this audio, but did not hear back. He also reportedly (and hilariously) bickered with The Onion over a satirical post, further proving how aggressive he once was in defense of Trump. Elite Daily also reached out to Cohen's lawyer for comment on The Onion story, but did not hear back.
As other outlets verified the ABC News report about Cohen's split from his attorneys, reporters began to circle the same conclusion: It's looking increasingly likely that Cohen will flip. But it's important to note that "flipping" here likely only refers to the probe in Manhattan at this point. The possible effects on the Mueller probe if Cohen cooperates with Manhattan federal prosecutors are entirely dependent on what Cohen knows, and what he decides to reveal about what he knows.
The New York Times' reporter Maggie Haberman tweeted a confirmation of the ABC News report, saying "Cohen is increasingly likely to flip." Some reports also suggested that prosecutors were preparing to arrest Cohen, per NBC's Katy Tur.
The Cohen saga continues to play out, and Americans get to sit and wait and watch. Get your popcorn ready, I guess? If nothing else, Trump's gotta be drafting an angry tweet at this very moment, right?